Posted by Carl from Chicago on 22nd February 2015 (All posts by Carl from Chicago)
Every weekend I read Barry Ritholtz's recommended reading and there are a lot of gems in there. Recently he posted this Credit Suisse graphic about markets at the turn of the 20th Century by market share and compared it with 2014 on the topic of global equity investing.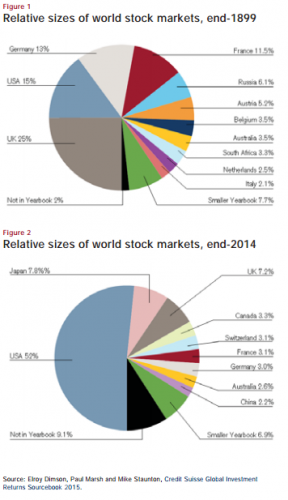 In his article he mentioned the fallacy one might fall into as a UK equity investor in 1899… why bother investing in the USA when the UK market is so much larger? And then this line of thought ends up missing the huge growth in US market share over the next century.
However, the real issue here isn't the relative change in market share by the different countries; it is the fact that almost all of these markets were entirely extinguished at one time or another by political, economic or military events that wiped out the investors.
Posted in Deep Thoughts, Economics & Finance, Investment Journal | 11 Comments »