Archive for the 'Marketing' Category
Posted by David Foster on 10th February 2017 (All posts by David Foster)
How the 16th century invented social media
Virginia Postrel thinks that now is the time for big-box stores to embrace the 19th century
Is it possible to make American mate again?
Related to the above:  mapping the geographical patterns of romantic anxiety and avoidance
Maybe also related:  sex doesn't sell anymore, activism does
PC oppression and why Trump won
Theory and practice: an interesting Assistant Village Idiot post from 2010
Learning about effective selling from a surfer dude
Here's a guy who says: I help create the automated technologies that are taking jobs…and I feel guilty about it
After discussing his concerns about automation-driven job losses, he goes on to say "I feel even worse when I hear misleading statements about the source of the problem. Blaming China and NAFTA is a convenient deflection, but denial will only make the wrenching employment dislocation for millions all the more painful."
I've seen this assertion–"offshoring doesn't matter because Robots"–and it doesn't make a whole lot of sense to me.  It should be obvious that both factors play a role; there's no need for a single-variable explanation.  (Actually, offshoring-driven job losses and automation-driven job losses are somewhat less than additive in their effect, since automation generally makes US-based production more relatively attractive.)
Here's an argument that the next big blue-collar job is coding.
What if we regarded code not as a high-stakes, sexy affair, but the equivalent of skilled work at a Chrysler plant? Among other things, it would change training for programming jobs—and who gets encouraged to pursue them. As my friend Anil Dash, a technology thinker and entrepreneur, notes, teachers and businesses would spend less time urging kids to do expensive four-year computer-­science degrees and instead introduce more code at the vocational level in high school….Across the country, people are seizing this opportunity, particularly in states hit hardest by deindustrialization. In Kentucky, mining veteran Rusty Justice decided that code could replace coal. He cofounded Bit Source, a code shop that builds its workforce by retraining coal miners as programmers. Enthusiasm is sky high: Justice got 950 applications for his first 11 positions. Miners, it turns out, are accustomed to deep focus, team play, and working with complex engineering tech. "Coal miners are really technology workers who get dirty," Justice says.
I'm reminded of two things that Peter Drucker said in his 1969 book The Age of Discontinuity.  In attacking what he called 'the diploma curtain', he wrote "By denying opportunity to those without higher education, we are denying access to contribution and performance to a large number of people of superior ability, intelligence, and capacity to achieve."
But also, Drucker wrote, in his discussion of the Knowledge Economy:
The knowledge worker of today…is not the successor to the 'free professional' of 1750 or 1900.  He is the successor to the employee of yesterday, the manual worker, skilled or unskilled…This hidden conflict between the knowledge workers view of himself as a 'professional' and the social reality in which he is the upgraded and well-paid successor to the skilled worker of yesterday, underlies the disenchantment of so many highly educated young people with the jobs available to them…They expect to be 'intellectuals.'  And the find that they are just 'staff.'
Indeed, many jobs that have been thought of as 'professional' and 'white collar'…programming, financial analysis, even engineering…are increasingly subject to many of the stresses traditionally associated with 'blue collar' jobs, such as layoffs and cyclical unemployment.  As a higher % of the corporate cost structure becomes concentrated in jobs which are not direct labor, it is almost inevitable that these jobs will be hit increasingly when financial problems make themselves felt.
Drucker's second point, which I think is very astute, is somewhat orthogonal to the coal-miners-becoming-coders piece, and probably deserves it own post for discussion.  Regarding the question of non-college-educated people becoming programmers (of which there has long already been a fair amount), the degree to which succeeds is to some degree coupled with the whole question of h-1b visa policy, and trade policy in general as it relates to offshoring of services.
Posted in Business, Civil Liberties, Deep Thoughts, Education, Leftism, Marketing, Media, Tech | 11 Comments »
Posted by David Foster on 14th August 2015 (All posts by David Foster)
Tony Parker, Treasurer–RNC
Reince Priebus, Chairman–RNC
Gentlemen,
I recently received a letter from Tony Parker which is excerpted below:
Chairman Priebus has written to you several times this year asking you to renew your Republican National Committee membership for 2012  As the Treasurer of the RNC, I'm concerned that we haven't heard back from you…I know other things come up, and perhaps you've just been delayed in renewing your membership.  If that's the case I understand….I hope you haven't deserted our Party.
Oh, no, Tony, I haven't forgotten.  I've made substantial political contributions in the past, and will continue to do so in the future.  But at present, I believe the highest leverage can be obtained by contributing directly to campaigns I like, rather than to the RNC or the various umbrella campaign organizations.
For one thing, I'm not very impressed with the way the Republican leadership has chosen to conduct itself, which seems more oriented toward ensuring long-term employment (followed by comfortable retirement) for members of the Republican side of the political class, than it does with pursuing the needed political change.  But in addition,  I am extremely unimpressed by your political marketing skills, particularly those having to do with the ever-more-critical Internet arena.
Please review my post at the Chicago Boyz blog, for some thoughts on this:
Something is happening here, but you don't know what it is…do you, Mr Priebus?
You are failing at social media, not using it effectively either offensively or defensively.  For example, this morning the following image was being circulated on Facebook: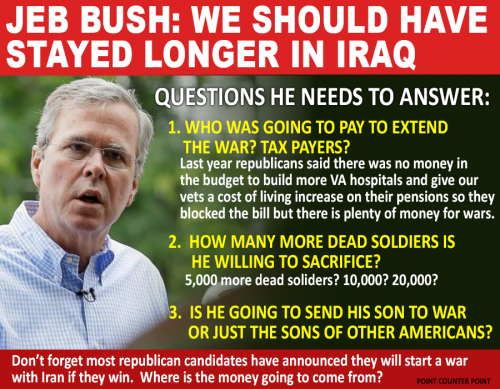 Note the assertion that the problems with medical services for veterans are to be laid at the door of the Republican Party.  A competent political marketing organization would monitor for things like this and make a hard-hitting response post available for sharing immediately.  You don't seem to be able to do this, or even to see the need for it.
You're not very good at traditional direct-mail marketing, either.  Most of the very high volume of mail I get from you is so bad it's embarrassing.  Your DM people seem to think that we are living in the '50s….not the real '50s, but some highly stereotypical version thereof:
"Maw!  Maw!  We got us a letter from these political people up in Washington DC…and it must be REAL important!  It has this really long number on it, and it says we HAVE to answer it!"
Most people who have enough money to make significant political contributions have at least some degree of astuteness, and are not likely to respond well to this sort of thing.
The verbal communication of the senior Republican leadership is also generally pretty terrible.  There is too much talking like a Martian, as Thomas Sowell has pointed out:
When the government was shut down during the Clinton administration, Republican leaders who went on television to tell their side of the story talked about "OMB numbers" versus "CBO numbers" — as if most people beyond the Beltway knew what these abbreviations meant or why the statistics in question were relevant to the shutdown. Why talk to them in Beltway-speak? 


As Sowell also said:
You might think that the stakes are high enough for Republicans to put in some serious time trying to clarify their message. As the great economist Alfred Marshall once said, facts do not speak for themselves. If we are waiting for the Republicans to do the speaking, the country is in big trouble. 

Democrats, by contrast, are all talk. They could sell refrigerators to Eskimos before Republicans could sell them blankets.
You…the institutional Republican party…are doing a very poor job at selling and marketing.  The consequences for this country and the world of your failure are likely to be very severe.  I hope that you will solve the problem before it is too late, but history does not lead me to be very optimistic on this front.  Unless and until I see serious evidence of change and improvement, I will be directing my political contributions to individual candidates who appear to "get it," rather than to the RNC or to the various Republican umbrella campaign organizations.
Regards
David Foster
via: paper mail and electronic mail; posted at the Chicago Boyz blog and the Ricochet blog
Posted in Elections, Marketing, Politics, Rhetoric, Tea Party | 32 Comments »