Posted by Dan from Madison on September 16th, 2013 (All posts by Dan from Madison)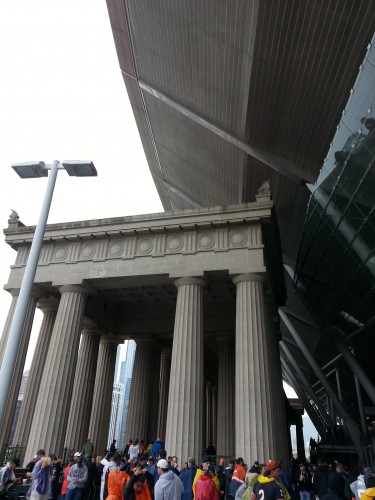 Last Sunday I was fortunate to attend the Bears Vikings game at Soldier Field with Carl from Chicago and Lexington Green. A great time was had by all.
As I was walking to my seats in the nose bleeds, I said to Lex "this picture represents pretty much everything about Illinois". He said I should blog it. So I am.
What you see is the top of the old Soldier Field on the left, with its beautiful granite pillars that used to be atop the stadium. On the right is the new Soldier Field, what we all call the UFO, that was basically dropped in on top of the columns. It is pretty much universally derided as one of the worst plans of all time, at least from an aesthetic point of view.
Of course, the Bears should have put this stadium in Hoffman Estates or somewhere like that, where there is plenty of parking and easy access. But no. The Soldier Field renovations, as with all things Chicago, turned into a giant scam, and now people that choose to see the Bears have to endure insane traffic snarls along LSD, have nowhere to park, and then have to deal with the crazy Chicago traffic to boot.
This represents a lot of what Illinois has to offer, or, maybe I should say, had. The "combine" in Springfield is legendary for hosing down the taxpayers for any of a million different things. But I have anecdotal evidence that maybe – just maybe – things are ripe for some sort of change.
A woman visited me on a business call at work last week and she just voluntarily started spouting about how pissed she was about all things Illinois. She didn't give a political point of view, but more to the point just said that everyone and everything there "sucked" and that she was going to, for the first time in her life, start to get involved. Lex noted that he has heard many of these same things in his dealings in Chicago.
I hope that this is true. I hope that things that are represented in the photo above come to be a thing of the past, not of the future.
Cross posted at LITGM.