For years, I have struggled to explain to people why high marginal tax rates on the "wealthy" create disincentives to work that make the entire society more poor.
I finally figured out a way to explain the problem in terms that everyone can relate to: High marginal taxes function as anti-overtime. Call it undertime.
Many people seem incapable of grasping the idea. They seem to see issues of taxation only in terms of relative wealth. They can only see that people with an upper middle-class income have plenty and that therefore if you take proportionally more of their income, they will still have enough. This comment on a post about taxes creating disincentives [h/t Instapundit] represents a common view:
Your point is well taken, I think the Bush tax-cuts should be extended, and I can see why this woman may be considering her options…..BUT, if the people in your example have a mortgage, 2 kids, etc., and the wife can even consider not working, they may be in an economic pinch, but they are not suffering very much.
What Clair and other like her miss is that this isn't an argument about fairness or who suffers. It is an argument about how tax policy affects the overall production, and thus material wealth of the entire society.
All of us, from the rich to the poor, need upper-income workers to show up for work. People receive higher incomes because their work generates proportionately more material wealth for the rest of us. If some highly paid engineer doesn't design a product, a highly paid industrial engineer doesn't design a factory to build the product, highly paid investment types don't find funds to build the factory, and a team of highly paid managers doesn't organize everything, then lower-income people can't get good jobs working in that factory. That is true for all economic sectors. We need highly paid doctors, accountants, farmers, business owners, etc. to do the critical work that makes us a wealthy society. The longer and harder they work, the better off all of us are.
Anything that reduces their output makes us all poorer. When we penalize people for putting in extra work, they work less and we all become poorer.
Progressive tax rates work like anti-overtime pay. Call it undertime pay. We are all familiar with overtime. It is an ancient idea based on the physical fact that it is harder to work the last hour of work than it is to work the first. The longer you work, the more difficult it becomes to keep working. In addition, to work longer hours you have to sacrifice in non-work areas of life, family, friends and relaxation. You don't get to stop and smell the roses as much. We've all experienced this reality at first hand. As the job gets progressively harder and the tradeoffs more painful, people want increasing returns per unit of time worked. We call this increasing return "overtime."
Ironically, it is leftists who have long declared it exploitative to the point of evil to pay people a flat per-hour rate regardless of how many hours they work. Leftists feel so strongly about this principle that they have encoded it into the labor law of every developed nation. They would explode with outrage at the idea of any policy that paid people "progressively" less per unit of time the longer they worked.
Yet this is exactly what "progressive" marginal tax rates do. With marginal tax rates, the more money you make in total, regardless of how hard you worked to make it, the higher the percentage of all that money that you pay in taxes. That means that you get paid "progressively" less per unit of time worked.
Let me explain for those unfamiliar with how marginal tax rates work. Current tax rates look something like this:
| | | |
| --- | --- | --- |
| Tax Rate | Married Couples Filing Jointly | Most Single Filers |
| 10% | Not over $16,750 | Not over $8,375 |
| 15% | $16,750 – $68,000 | $8,375 – $34,000 |
| 25% | $68,000 – $137,300 | $34,000 – $82,400 |
| 28% | $137,300 – $209,250 | $82,400 – $171,850 |
| 33% | $209,250 – $373,650 | $171,850 – $373,650 |
| 35% | Over $373,650 | Over $373,650 |
Now suppose you land a job that pays $250,000/year or $20,833/month. Suppose that for some reason you have the option to work as little or as much as you want over the course of the year. You can work anywhere from one month to 12. Now, the more months you work the more money you make and the higher your marginal tax rate. So, you earn significantly less per month working the 12th month than you did the 1st.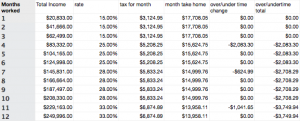 (Remember, this is just federal income tax. It doesn't include payroll taxes or state income taxes.)
Of course, only a few self-employed types like doctors, accountants, engineers, etc. can actually set how many months a year they work. Most of us show up twelve months out of the year. Instead, when we seek a promotion or try to expand our own businesses, we expand the number of hours per day and week that we work. However, the principle remains the same. You work more but, because of progressive taxation, you get less per hour the more you work.
This is important because not only are upper-income workers especially vital to the overall economy but they already work more than others. By quintile, the number of hours worked per week increases from 14.40 to 26.66 to 28.87 to 33.43 to 34.56.
When you work longer hours in a more challenging and higher-stress job, you are proportionately more sensitive to anti-overtime. You are already close to being maxed out. When the government cuts your pay even further, you are more likely to resist working more and may decide just to work less. If you have consumed proportionately less and saved proportionately more, you may find it more rewarding to just stop working altogether.
Somewhere along the line, we developed the idea that those who earn good money are just machines that will show up and work grindingly hard regardless of how much we pay them. I don't know why we think that, when we know that we personally will not do so.
You don't need a degree in economics to understand this concept. You just need to have worked your ass off at some point in your life. That is why so many, regardless of their education, don't get such a simple idea.
[Note: I think many people have a similar problem grasping how taxation affects decisions to invest. I will cover that in a subsequent post.]