Here's a screen shot of a post at Instapundit. See if you can spot any differences between the current post and the screenshot.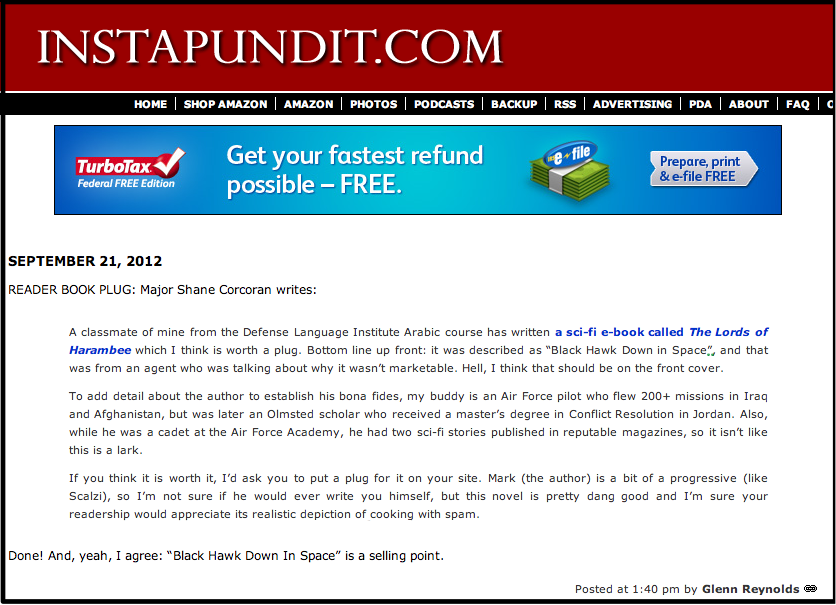 That took me literally five seconds to alter.
I use an organization/document-management app for the Mac called  DevonThink Pro. The app has many supporting scripts to capture information from various sources. Today, I learned of one called "Make Editable" a bookmarklet script for Safari and Firefox. When activated, it switches the browser page into developer mode that allows the editing of the original page right in the browser window.
The intended use of the script is for DevonThink users to cleanup or annotate a web page before printing it or saving it to DevonThink as a PDF or webarchive. While testing the script I discovered that the script made it ridiculously easy to alter a web page in place complete with the correct font, font size, and style. Developer mode has always been tucked away and users had to dig for it but now the script makes accessing it almost instantaneous. The script makes it very easy for an unscrupulous individual to fraudulently alter webpages, take a screenshot, then claim that the page's author wrote something they didn't and then tried to covered it up later by reposting.
Yeah, I'm always thinking about how things can go wrong.
The technology to fake up screenshots has been around for a decade or more but such fakery required a graphic app, skill in using it, and possesion of the exact font used on the page. The alterations would usually leave subtle distortions in the image, especially the non-visible sublayers, which would signal it as a fraud upon expert examination.
Now, with "Make Editable," a scammer just clicks a button, clicks the text he wants to alter, types in the fraudulent text and the text appears in exactly the exact same font, style, and size as the original. The screenshot graphic itself has no fingerprints of alteration because the screenshot is a perfectly legitimate and faithful copy of what appeared in the browser window.
Every technology is a two edged sword. The very ease of which we can copy, alter and distribute information via computers and the internet also makes that information far more arbitrary and virtual. As we see more and more of the world though digital media, we also more and more risk seeing a distorted or even outright fraudulent version of reality. We can boil down human intellectual history down to progressive struggle to fight through the "fog of life," past all the distorting preconceptions and limited perspectives. Now, we have to worry about filtering out virtual reality as well.
Stay on your toes.