This Forbes article talks about China being an empire, i.e., a polity composed of many different ethnic groups but trying to behave as a nation, i.e., a polity based around a single ethnic group. [h/t Instapundit] This reminded me of a mock map at the very interesting blog Strange Maps.
The map below combines the distribution of China's ethnic Han population (the people we think of as Chinese) with China's geographic isolation to produce an image of the Han inhabiting an island surrounded by a sea of non-Han peoples.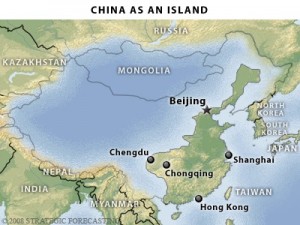 This post accompanying the map makes several very good points:
This Han-ification of the Chinese fringe does not necessarily imply that the Chinese have more contact with the countries beyond their borders. Only in three places are the Chinese borders naturally permeable: at the Vietnamese frontier, via the Silk Road, and near Russian Far East. Hilly jungles separate China from Laos and Burma, the Himalayas shield it from the Indian subcontinent, almost impassable deserts divide it from Central Asia and the forbidding expanses of Siberia have never appealed to Chinese expansionism (until now, as the Russians fear)
and:
Its size and its penchand for autarkism dictate China's three main geopolitical objectives:

maintain unity of the Han heartland;
maintain control over the non-Han buffer zone;
deflect foreign encroachment on the Chinese coast.

Clearly isolationist, these objectives also condemn China to poverty: as a densely populated country with limited arable land, China needs internatioal trade to prosper. The paradox is that prosperity will lead to instability. Prosperity will tend to be concentrated in the areas trading with the outside world (i.e. the coastal regions), creating economic tensions with the poorer interior. This might destabilise the Han heartland.
In thinking about the rest of the world, westerners often make the major mistake of projecting the freakish ethnic states of western Europe onto the rest of the world. This is especially true of areas that were once part of multi-ethnic empires such as the Middle East (Ottoman), India (Mogul, British) and China. Each of these areas is more ethnically diverse down to the level of individual towns than is Europe, yet we still insist on treating "Chinese" as if they had the same integral ethnic identity as a place like France. In reality, we should think of "India" or "China" as the equivalent of "Europe" instead of as the equivalent of "Germany". (India in particular is massively diverse with about three times as many major languages as Europe.)
Maps such as the one above can help us prevent letting our thinking fall into such ethnocentric traps.