Way off in the distance, there is a platform bristling with cameras and microphones. Somewhere behind it, hidden from view, Sarah Palin was speaking, but I could not hear much. The physical arrangement was pretty poor.
This bunch was the hard left. They seem to be affiliated with the International Action Center and Workers World Party, also known as ANSWER.
The pierced and tattooed ironists of the cultural left were not to be denied their place, either: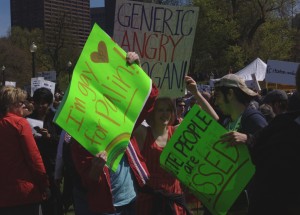 The lumpentelligentsia is the revolutionary vanguard! If they annoy you, just remember to stiff them on the tip next time you see them.