Howard Bloom argues that America needs a space vision. Like solar power…FROM OUTER SPACE!
Bloom argues that space solar power is the solution to America's energy needs. With space solar power, this nation would put satellites in orbit around the Earth. These satellites would collect the plentiful  solar power in space that's just sitting there unused, ready to reduce your power bill, convert it into healthy radiation, and beam that radiation back to the Earth where it can be converted into power. Space solar power would have no problem with spills, weather, eminent domain, NIMBY, waste, Indian attack, pollution, or allergies. Other than the small technology, engineering, and financial hurdles, Bloom faces one massive hurdle in convincing the American people that this is the vision for them: the term solar power.
When the average red-blooded American hears the term solar power, they think of one thing:
That's right. Hippies. For most real Americans, solar power equals hippies. Even when you say this solar power COMES FROM OUTER SPACE!!! doesn't help. Even when you say solar power…FROM OUTER SPACE!, most Americans don't feel inspired. They feel fear. There's only one thing worse than earthbound hippies:
That's right. SPACE HIPPIES.
Most real Americans want the hippies that we already have on Earth eradicated. The last thing they want is hippies in space on top of our current hippie infestation.
However, I agree with Bloom's basic premise. Space solar power is just the sort of big picture project that this country needs. However, I think it needs an image makeover. For millions of Americans, solar power equals hippies and space solar power equals space hippies. That's not going to change, even if you're Howard Bloom, the guy who put the proverbial Cougar into the proverbial Mellancamp. You need something that says America to America. You need something that says MAXIMUM POWER…FROM OUTER SPACE!
The next thing you need, as Bloom points out, is compelling imagery. The power of the visual, especially for MAXIMUM POWER…FROM OUTER SPACE!, can drive even the hardest hearted America to support Bloom's vision. Unfortunately, most of the time you'll be offered something like this:
That's OK but this is America. Can we do better? Yes we can.
We need something that reaches out and grabs the viewer by the lapels and demands their respect. Something like this:
This is the armored space station with enough power to destroy an entire planet MAXIMUM POWER…FROM OUTER SPACE! producing satellite that will inspire a nation. Moreover, we will win the respect and admiration of the entire world through fear of this battle station our vision, engineering prowess, and hard work. As we finish it, the world will realize that this means that we will crush the Rebellion with one swift stroke be able to bring them a source of almost inexhaustible MAXIMUM POWER…FROM OUTER SPACE! The whole world will eventually witness the firepower of this fully ARMED and OPERATIONAL battle station realize the benefits of our efforts as we bring them MAXIMUM POWER…FROM OUTER SPACE! Nothing will be more inspiring than the first time we transfer MAXIMUM POWER…FROM OUTER SPACE! to the surface of the Earth:
No one should have any safety concerns about MAXIMUM POWER…FROM OUTER SPACE!, however. Though the occasional safety accident can happen:
So far MAXIMUM POWER…FROM OUTER SPACE! has a perfect safety track record. As Bloom has said, we've been beaming power back to Earth without incident since we put up the first solar powered satellite that beamed a radio wave back to Earth.
The most important requirement for building an orbital MAXIMUM POWER…FROM OUTER SPACE! production system in Earth orbit is leadership. You need someone who has a definite air of authority, who can hit production targets, who can manage a large workforce, and, when the going gets tough, find new ways to motivate them. Someone like this:
No. That's a bit much for an American workforce. We need a leader who has a proven record of inspiring the American people with his vision for space, someone who has the technical chops to hang with the brightest space nerds, a proven manager who can operate under almost wartime-like conditions, and who can be a real slave driver and even a real Nazi when he needs to be. Someone like this: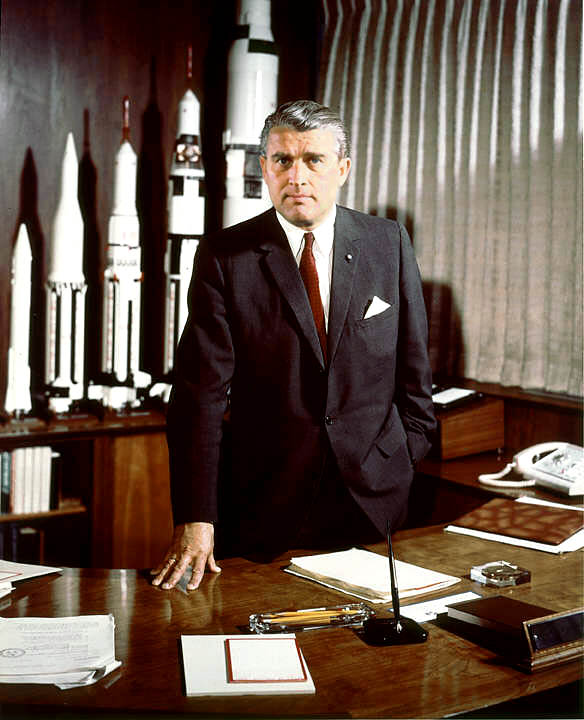 His only disqualification: he's been dead for 23 years. That leaves only one possible candidate:
Buckle up your 1982 GMC van, America. Better drink your milk too.