Posted by David Foster on 2nd December 2018 (All posts by David Foster)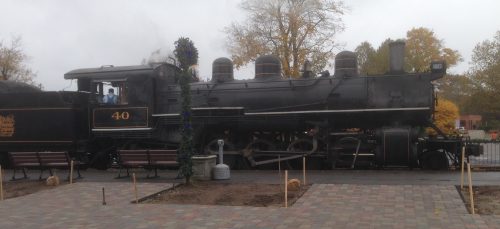 The Essex Steam Train and Riverboat leases 22 miles of railroad track from the state of Connecticut, and owns several steam and diesel locomotives plus various rolling stock. They operate regular passenger excursions plus seasonal specials.  Essex also offers a training and experience program for people who would like to learn a little bit about operating a steam locomotive.  Being interested in steam power, I signed up.
The program includes some written material to be reviewed at home, a group classroom session of about an hour, and then an individual hour operating a locomotive under the guidance of an experienced engineer.
On arriving, I was surprised at the scale of the operation.  Although I was there in the off season (early November), judging by the parking lot and the number of railcars the place must be quite busy during prime months.  First was the class, which covers safety rules and basic steam locomotive principles.  It was taught by the railroad's machinist, who described himself as the "spare parts department."  Next was a group visit to the locomotive cab to familiarize ourselves with the layout of controls and indicators.
For our group, the locomotive was #40, a Mikado type built in 1920.  (The name "Mikado" became popular because an early batch of locomotives of this type was sold to the Japanese Railways.)  #40 started its life hauling logs and lumber in the West, then pulled passenger and freight trains in North Carolina until it was retired circa 1950…purchased by the Essex for restoration in 1977.  The locomotive has a rated boiler pressure of 180 psi and can generate a tractive effort of 35,000 pounds.
On a steam locomotive, the cutoff point of steam admission to the cylinders can be controlled by the engineer.  Early cutoff lets the steam do more of its work expansively, improving fuel economy at the cost of some reduction in power.  The reverser sets the cutoff point as well as controlling the direction of travel–while the reversers on early locomotives were manually-operated and required considerable strength to operate (and sometimes led to broken arms), the reverser on #40 is a fingertip control, using air pressure to do the hard work.
It was a drizzly and somewhat chilly day, but very comfortable in the locomotive cab. (The boiler backhead is very hot, do not touch!)  Basic controls and indicators include the throttle, the reverser, the boiler pressure gauge, the injectors, the boiler water glass, and the brakes with their associated pressure gauges.
Posted in Business, Energy & Power Generation, History, Tech, USA | 4 Comments »