I was doing some work in my basement when I came across the following, tucked away out of sight behind a girder.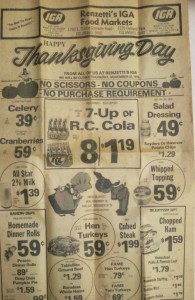 It is an old grocery flyer from a nearby store. How old is it?

Okay, so it lists the prices from 1979. But how do those prices stack up against the cost of similar items that can be found on the shelves today?

This handy inflation calculator is pretty nifty. Prices are based on the Consumer Price Index, which is a comparison of a basket of common household items from place to place, and from year to year.
But though I have found it to be extremely useful for figuring out the buying power of wages in different decades, the CPI has some critics. They claim that it isn't accurate because technology causes the relative cost of various items to rise and fall. And it seems that food prices have been falling relative to buying power.
How can we check this? Well, the first step is to see how inflation has effected prices in the last 31 years. According to the inflation calculator, $1 USD in 1979 would buy the same amount as $2.92 USD today.

Okay, so according to the CPI prices today are about three times what they were back in 1979. But has the price for food risen that high?
It just so happens that a flyer for the very same store appeared on my front porch yesterday, although one that had been recently printed. Let us compare the price of chopped ham. The first image will always be from the 1979 flyer, and the second will be taken from the 2010 handbill.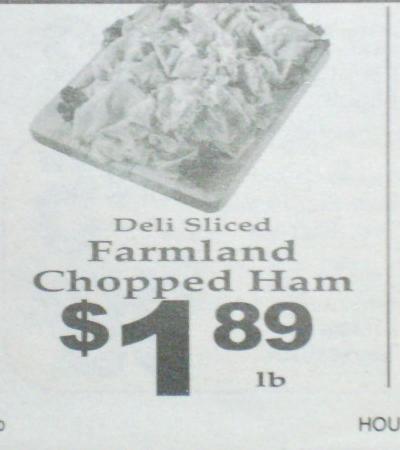 Pretty close in price! If the CPI was accurate, then the price per pound for chopped ham should have risen to about $4.65 USD.
Okay, what about hot dogs?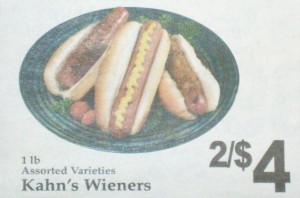 Still way off. If a one pound package of tube steak cost $1.29 back then, it would have to cost $3.77 today in order to conform to the CPI reported increase. Instead it goes for $2.
Milk is a household staple that seems to be popular in every decade.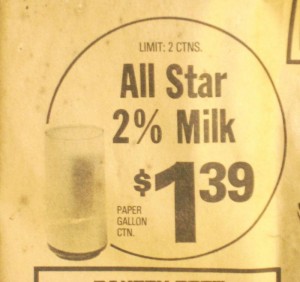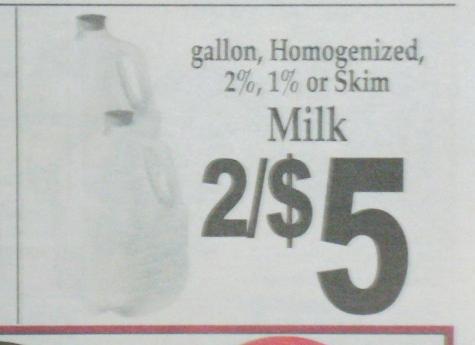 Again, according to the CPI a $1.39 gallon of milk back then should cost about $4.06 today. Instead it sells for $2.50 a gallon. But a straight comparison doesn't tell the whole story.
The words "LIMIT: 2 CTNS" above the 1979 price listing would seem to indicate that this was an exceptional deal. The grocery store manager didn't want a run on the item as people stocked up on milk, leaving bare shelves and angry customers who didn't get a chance to take part in such a value. The present day price might be worth noting in the flyer to get people to visit the store, but there doesn't seem to be any danger of milk selling out any time soon.
So we have compared items from the dairy and meat aisles. What about vegetables?

Hmmm. The size of the packages by weight don't exactly match up, except for corn. But, even so, it is obvious that the price of food has not been increasing along with inflation. In fact, it would seem that the percentage of an average American budget devoted to food has fallen by about one half in the last 31 years. If someone had to use 20% of their pay to buy food back in 1979, then they should have to shell out 10% of their hard earned nowadays to get the same number of items, and of the same quality.
Unless, of course, chopped ham makes up a large portion of some persons diet. If so, then the percentage of their income devoted to food should have fallen from 20% to about 7%. Chopped ham seems to be the hot tip for meaty value.
There is more to the story than simply more effecient farming methods. Big box stores like Walmart provide everything the consumer might need for the home, and high volume sales means that there is a reduction in price. The IGA store mentioned above is family owned, and it is much, much smaller than anything Walmart puts up. The prices in the IGA are not only higher, but they also have lower quality goods in the form of off-brand merchandise. The only reason they survive is due to the fact that the store is situated in a rather crappy neighborhood, one which is off the well traveled bus routes. There are enough people living nearby who do not have access to a car so taking a trip to stock up on less costly groceries is not a viable option.
While mildly interesting, this direct comparison in food prices has caused another question to spring to mind. If food has not kept pace with the average price increase due to inflation, then some other items in the CPI basket must have jumped far ahead in comparative cost to offset the lag.
What do I have to spend a greater percentage of my paycheck on today, compared to 1979? Housing? Clothing? Automobiles?
(Cross posted at Hell in a Handbasket.)