How confusing does Islamic eschatology ("end times theology") get when it comes to the Black Flags of Khorasan — and the idea of AQ or the Taliban marching victoriously on Jerusalem?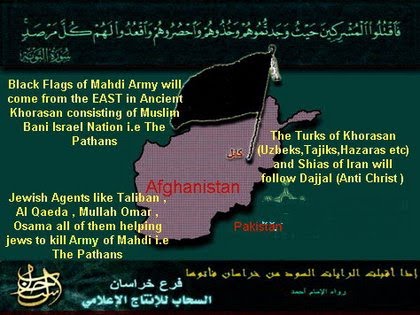 Contrast the view from the site where I found this map with the view found in Bilal Khan's informally syndicated piece, Where is Khurasan Actually?.
The two pieces seem to use much of the same material — including in both cases the suggestion that the Pashtun / Pathans are descendants of one of the Lost Tribes of Israel – but whereas Khan's essay contains a quote attributed to Syed Saleem Shehzad of Asia Times Online to the effect that "Al Qaeda shares this belief with the Taliban that Afghanistan is the promised land of Bilad-e-Khurasan", thus suggesting that an AQ-Taliban combo might be the army of the Mahdi, the map itself portrays the Taliban and AQ as "Jewish Agents" killing the Mahdi's followers…
If I can figure them out myself, I hope to have a more detailed exploration of these and some related matters up at Zenpundit — where I've been tracking such things for some time — in the next few days.