The day was dominated by a 5.5 hour long house-wide clean-up party. The place really needed it. The children are a force of nature.
The messes defy reason. Example: A mound of shoes by front door contains nine flip flops, one pair and seven singletons. A girl's sweater behind the couch. Whose is it? One of my oldest daughter's friends who happens to be here says " I think it's mine." It is. There is about a bushel of socks which are in places they do not belong.
While I am crawling on the floor to pick stuff up, the five year old repeatedly flings himself on me, by surprise attack whenever possible.
But when I finally finished, I got myself a drink and a book and sat out on the porch in the magnificent weather.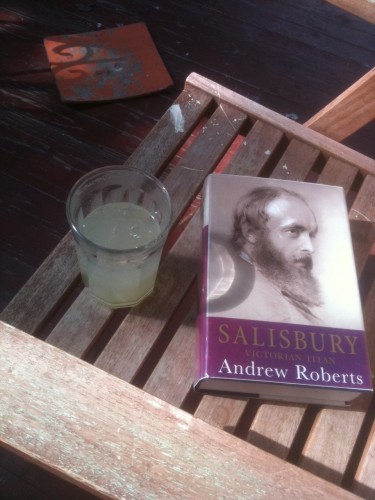 Andrew Robert's biography of Lord Salisbury, Victorian Titan
is a brilliant book about an amazing man, who seems to have been almost completely forgotten.
I have a practice of having books in different parts of the house, so that I can read them when I am there and have a few spare minutes or seconds. I have one for the kitchen, which is usually long and can be read bit by bit. The Salisbury, which is too big to schlep around in a briefcase, was that until I finished it today.
Having finished the life of Robert Gascoyne-Cecil, 3rd Marquess of Salisbury, and pausing only briefly to mourn his passing, I got another drink and another book.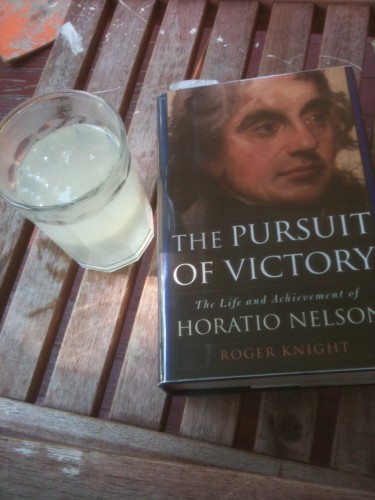 Roger Knight, The Pursuit of Victory: The Life and Achievement of Horatio Nelson
, another brick of a biography, is very good so far, halfway into the second chapter.