Posted by Chicago Boyz Archive on December 18th, 2011 (All posts by Chicago Boyz Archive)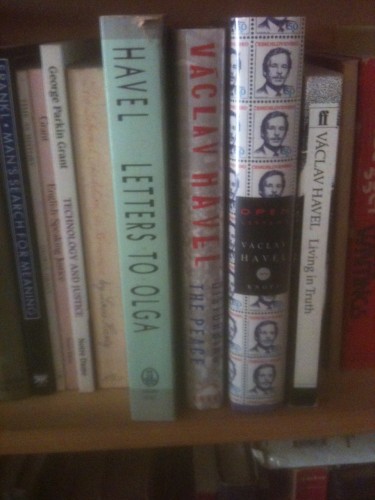 The Cold War didn't have to end the way it did. The Communists could have won. Or it could have ended with a lot of big explosions. Instead it ended when a lot of people who had lived under Communist lies, oppression, stupidity, waste, pollution, hypocrisy, squalor and corruption stood up, risked getting their heads kicked in by the cops, and pushed the whole stinking pile of junk onto the ash heap of history.
Vaclav Havel was one of the guys who did the pushing.
A Velvet Revolution, where as few people get killed as possible, is a great achievement.
Havel is one of the guys who made that happen.
1989 and the Fall of Communism in Eastern Europe already seems like something from ancient history to many people.
To me it seems like last week.
An entire disgraceful and brutal episode in our past is being sanitized and tossed down the memory hole.
Please do not forget the Soviet Union, do not forget the Cold War, do not forget Communism, do not forget the people who suffered under it, do not forget the people who opposed it, do not forget the people who wanted to give in to it, and who lied about it, do not forget the people who brought it all to an end.
Vaclav Havel, rest in peace.
The Power of the Powerless (1978)
(I just re-read this one, and it is a pretty good fit for our current situation in America. It is also in the book Open Letters: Selected Writings, 1965-1990 — cheap used copies available.)
[BTW, I cannot find the link to the extremely funny and insightful essay Havel wrote about how being President of Czechoslovakia, with someone always doing his laundry and cooking and driving him places, was making him infantile and out of touch. Anyone who has that, please put the link in the comments and I will update this post.]