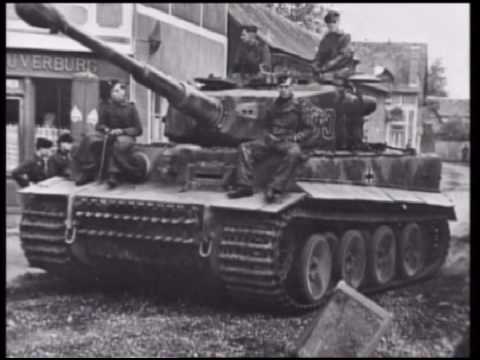 On this day seventy years ago, Michael Wittman was killed. Wittman was a war hero, and media hero in Nazi Germany, a "tank ace" with 138 confirmed kills.
As Wikipedia tells us:
Wittmann is most famous for his ambush of elements of the British 7th Armoured Division, during the Battle of Villers-Bocage on 13 June 1944. While in command of a single Panzerkampfwagen VI Tiger he destroyed up to 14 tanks and 15 personnel carriers along with 2 anti-tank guns within the space of 15 minutes.
Some photos of the aftermath of this one-tank rampage can be found here. There is a video about this action here. Notably, the British narrators of this video treat Wittman's feat with a sort of hushed awe.
Wittman was a dashing looking chap, as well: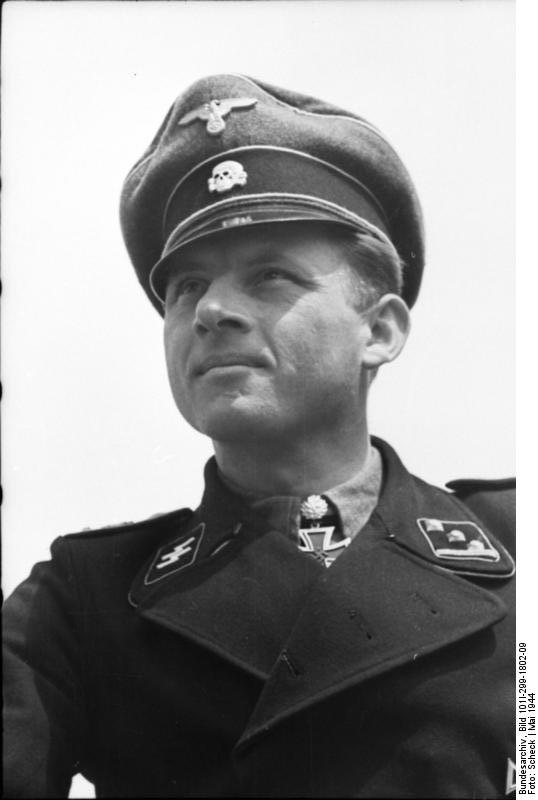 The historian John Lukacs somewhere wrote that Nazi Germnay was a bigger threat to the United States and to the world than Soviet Communism because it was based on a corrupted version of real sentiments people actually feel, such as patriotism and hero worship.
The Nazi propaganda machine tried to make the war glamorous, and to make its young war heroes look like movie stars. The Nazis tried, at least in terms of propaganda, to personalize the war and turn it into a conflict where heroism and extraordinary feats of arms could overcome the limitless numbers and mass of the Allies. Of course, this was a lie, though apparently a lie the Germans told themselves and chose to believe.
The Nazis also, in the process of manufacturing heroes for popular consumption, made a practical error. They left their champion fighters in combat and used them up, wasting their skills and expertise. The Americans did not make that mistake. For example, the American fighter ace of aces in World War II was Richard Bong. The Army Air Corps took him out of combat both to sell war bonds and otherwise be used for propaganda, but also to train others in the skills he used to destroy enemy planes in air to air combat.
The Nazi war effort was not a rational act of statecraft. It was not based on a realistic or even sane assessment of Germany's actual capabilities. The leadership in Kaiserian Germany was wretched, and led to a grinding and unnecessary war against the entire world which Germany was almost certain to lose. The Nazi remake of the original movie was even more unhinged. Its political leaders were amateurs, its generals capable of winning battles but not planning entire wars. The Nazi onslaught on the world was less a matter of means-ends rationality than a massive, murderous pierce of extemporaneous performance art. The German war aims were sheer fantasy, and everyone involved at a senior level for starting and prosecuting the war was responsible for it, and for its almost inevitable failure, not just Hitler.
Wittman's life and death were about nothing real, nothing achievable, nothing except pointless destruction. His military achievements were about looking great in a great looking uniform and fighting and riding around in a tank and doing heroic deeds for the sake of doing them. That, plus holding off the Allies for a few more days or weeks, allowing more people to be hustled off to the death camps.
Yet many still find it easy to fall for the glamour. Neo-Nazis have made a cult of Michael Wittman, and his youthful death and good looks make him an almost inevitable cult figure.
Many of us readers of military history, who have no sympathy for Wittman's cause, are still enthralled by the tactical bravado of his blaze of glory at Villers-Bocage.
We are atavistically built to feel at least a twinge of admiration for martial prowess no matter the cause it serves, for its own sake.
Fortunately, America and the English speaking world generally, have little admiration for war in any general way, and comparatively little romanticism about it. It is a dirty business we carry out in a business-like way when we have to. We admire courage and fighting skill but we do not make a cult of out of them.
May fate spare us many enemies in the future as competent as Michael Wittman.