My daughter and I spent almost all of last Saturday at our booth in the parking lot of a local Beall's, in the heart of what would pass as the new downtown of Bulverde, Texas – if Bulverde could be said to have a downtown of any sort. There is a sort of Old Downtown Bulverde, at the crossroads of Bulverde Hills Drive and Bulverde Road, where the post office is (in a teeny Victorian cottage covered with white-painted gingerbread trim) and around the corner from one of the original settler's farmsteads, complete with an original stone house and barn – now repurposed into an event venue. There is a small airfield nearby, and astonishingly enough, Googlemaps show a polo ground. But the landscape all around is that of the lowland Hill Country – low rolling, patched scrubby cedar, and occasional stands of live oaks. Everything – including a perfectly astounding number of single family housing developments are scattered unobtrusively here and there among the hills, the cedar and the oaks.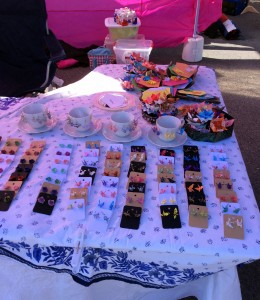 This includes New Downtown Bulverde, not quite so unobtrusive, and a few miles farther north at the intersection of Hwy. 281 and FM-46 West. This is where is where the schools are, as well as the fire department – newly built and lavish, the shopping center with a huge HEB Superstore. Bulverde is what my daughter terms as one of San Antonio's bedroom slippers – once distant and separate communities now in commutable distance from the big city. The other bedroom slipper is Boerne, which boasts a more definable, scenic and historic downtown. Physical evidence of a wealthy yuppie demographic contingent is strong in Boerne – wineries, gourmet grocery stores, chichi designer boutiques retailing everything from country furniture, clothing, jewelry, baked goods and coffee – not so much in Bulverde. Boerne has a monthly community market; Bulverde has them twice yearly, spring and fall. Boerne's is on the historic downtown public square, or what our readers in England might call a common – a half-acre square of lawn, edged with mature pecan trees and adorned with a Victorian-style bandstand. Bulverde's community market is – as said – in the parking lot of Beall's, in New Downtown Bulverde and organized by the Bulverde/Spring Branch Chamber of Commerce. A friend of ours, who was part of the planning committee, told us that every single slot was filled – all 135 of them, a substantial increase over the spring market in May. But of course, Christmas is coming.
Our day began at 5:30. Not to beg any pity over that, but we did have to eat breakfast, scroll though our regular news sites and email accounts, walk the dogs and water the garden, before pulling out for the half-hour drive to Bulverde. We had already packed Blondie's Montero SUV the night before; the pop-up pavilion, the necessary weights for it, the tables, folding chairs, the necessary racks and display items – and of course, the plastic tubs with all the stock; my books, her origami art. Blondie calls this exercise 'Automobile Tetris' – packing in everything which we will need. The bulkiest item is the wheeled rack to display her origami earrings – a repurposed and repainted soft-drink rack. The heaviest is the pop-up pavilion, which takes both of us to carry – and to put up. We had to be set up and ready to go before 10:00, when the market opened – and hopefully before then, for the Montero had to be out of the way and parked in the designated vendor lot. Having the pavilion, the chairs and the tables saves us a fair amount of money – some other market venues offer them for rent for vendors. The practice is for regular vendors to have all their own market furniture – not just the pavilion and tables, but things like display racks and signage – and a trailer to haul it all around. One little local boutique maintains a vintage Airstream trailer as their portable premise. Many of the regular stalls in local markets are run by hobbyists who have a full-time regular job and do gypsy-retail on weekends; artists in metal, beadwork, fabric, wood and pottery, small truck farmers and producers of small-batch soaps, candles and skin-care products, or artisan gourmet foods. Sometimes they scale up to a permanent location, or already have a permanent location and do the local markets to build awareness of their products. Our immediate neighbors, by the way, were a crafter who did bead jewelry (we remembered her from the spring market) and Miss Scarlett's Texas Homegrown – organic produce. Which was quite good, and reasonably priced, too; Miss Scarlett's owners are a young couple with a two-acre plot in rural Bulverde, where they intensely cultivate a wide variety of vegetables – and bees. We came away with half a dozen yellow squash and zucchini; he runs the farm, she does the weekly markets.
Blondie has a unique inventory – origami paper jewelry. She does mostly earrings; miniscule cranes and tulip flowers, which astound people for their tiny size, with a side-line in hair ornaments, pins and magnets. The crane earrings were a particular hit at this market, since they are priced to be readily affordable, and in practically every imaginable color. There was a lot of foot traffic, pleasingly constant for all the six hours that the market was open. That there was a good retail turnout is reassuring, in the light of current events. The day was fair, clear and warm, with a regular cool breeze that beat back the heat until about 3:00. Blondie had more sales than I did, dollar-wise, but many people took away information about my books – another thing to keep in mind for something like this: business cards and postcards. Quite often, there is an uptick of sales of my books on Amazon in the week or so following an event, from having handed out information. For both of us, the more that we are out and about at the markets – the more shoppers know about us. This is much more important for Blondie, since it may be harder to sell her origami items where people can't actually look at and handle them in real time. I had a nice time, and several nice talks with readers; especially with a young student, all of eleven years old named Lorena, who picked out To Truckee's Trail when I said it was the book of mine most suited for her age – although Lone Star Sons is intended as YA, it's not available until mid-month and the only copy I have was for display.
The last hour of a market usually drags; the numbers of shoppers begin to drop, and while the vendors are committed by agreement with whoever is managing the market to stick around until the official closing, there is usually some surreptitious packing-up going on leading up to that point. Everyone is tired, bored as the crowds diminish, and more than ready to pack up and go home. The Chamber asked that we take down and pack up completely before bringing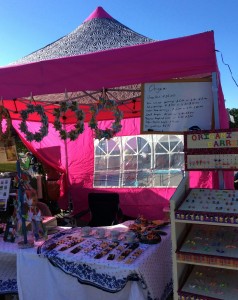 our cars and trucks into the area, which is a reasonable request – the gridlock is horrific, otherwise. We had everything broken down and packed in the Montero in twenty-five minutes, and were dropping with exhaustion by the time we got home. We'll be doing this or something like it almost every weekend until mid-December – Ebola, or not.