Over the last year or so, my daughter and I have moved deeper into the world of the gypsy entrepreneur market. Of course, I've been dabbling around the edges for a while, as an independent author, once I realized that there was more to be made – and a lot less ego-death involved – by taking a table at a local craft fair, especially those which occur around the end of the year, deliberately planned to enable the amicable separation of their money from someone shopping for suitable seasonal gifts. The first of these that I participated in – strictly book events, like the West Texas Book and Music Festival in Abilene – involved only a table and a chair. It was incumbent on the authors, though, to bring some signage, informational flyers, postcards and business cards, and perhaps eye-catching to adorn the table. But a couple of years ago, my daughter started a little business making various origami ornaments, flowers and jewelry, and last year we decided to partner together at the community market events within driving distance, and within our ability to play three-dimensional Tetris in fitting everything into the back of the Montero. It helps to have two people doing this kind of event, by the way – you can spell each other, make jaunts to other venders, go to the bathroom – and setting up and breaking down is much, much easier.

By the gypsy entrepreneur market, I mean that loose community of local small vendors, providers of small farm-grown produce, meat and dairy products, specialty foods (to include sauces, pickles, jams, nuts and jerky) artisans, artists, crafters of every art, carpenters and cabinet-makers, potters, painters, sign-makers, welders and more who have no fixed retail outlet, but participate in weekend markets and fairs on a regular basis. They may very well have a website, or a business Facebook page, but that is usually as far as it goes. Food trucks fall into this category, and so do the handful of boutique operators who have a remodeled trailer or RV as their place of (mobile) business. Mostly, the gypsy entrepreneurs make do with a pop-up canopy (the nice kind with attachable zip-up walls for shelter, shade and a degree of security), tables, shelves or stands to display the goods, signage, chairs to sit on, a cashbox (and sufficient bills and coin to make change) and means to process credit card payments, like the little Paypal credit-card reader which attaches to an iPad or iPhone. (This is one of those great recent developments for small-scale vendors doing this kind of thing. It's been nearly a year since someone wrote me a paper check, and most people simply don't plan to carry around great wads of cash now – even for a day at the local market or craft fair.) Many of the gypsy venders also have tall mesh stands, panels or folding screens to hang items on, or to attach narrow shelves for a wall display. The goods for sale are packed into collections of plastic tubs in between shows, and the wise vendors often have a sturdy hand-truck or wheeled cart to shift it all, especially at those markets where one must park a good way from the venue. The hard-core vendors have a trailer to haul it all around; the really hard-core follow the markets and live in an RV.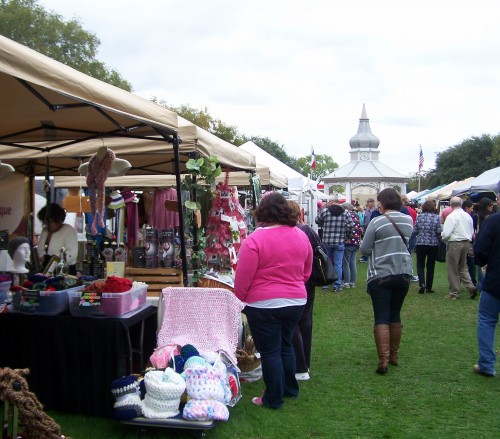 Many vendors, like us, have a day job, or several day jobs. I've talked to enough of them to get a sense of this, and now we've begun to see the same vendors, circulating through the same regularly-scheduled events. They create on their own time, and bring it to the local market circuit on the weekends. Some are hobbyists, doing it for fun and exposure. Some – especially the farm products vendors – do it routinely as a part of their marketing plan, and others do it intending to grow the business big enough to have a permanent retail outlet. I suspect that for most of the gypsy entrepreneurs, it's the new-old game, a kind of revision to the medieval version of trade fairs; a small family-run business run from a home or a farm, with regular appearances at the temporary markets.