My then pre-K aged daughter Blondie and I lived in Athens from March 1983 to September 1985. It was a follow-on assignment to Hellenikon Air Base (now closed) to a year that I spent at Sondrestrom, Greenland, forty miles north of the Arctic Circle. All during that year of separation, I had promised her that we would go to Athens together, and live in a house on a hill, with lemon and olive trees all around and a view of the sea, and we would be happy.
We did, and we were, and these are the things I learned and remember.
Athens is a large and mostly modern city, 7/8th of it built up since 1945, with smog to rival Los Angeles and sheer noise to equal New York. All the neat old historic buildings are buried among the modern construction like one of those party favor balls made of crepe, which you unwind to find various little toys hidden in the layers. The park in the heart of the city is the Zappeion garden, lush and green, with a pond of ducks and a tiny children's' library. The Zappeion is full of cats, at which we used to marvel, as they were all so fat and tame. One afternoon when my daughter and I were walking back to catch our bus to the suburbs, we kept noticing the cats slinking out of the bushes by the dozen, looking expectantly at us. A young couple came into the gardens by one of the gates from Vassilias Amelia Avenue, staggering under the weight of three or four plastic shopping bags in each hand, and the cats gathered purposefully. The young couple set down the bags, took out can openers and began opening cans of cat food. They did this every other day, or so: the young man was English and worked nearby. He and his girlfriend came to feed the cats every day or so, having taken it over from an elderly Greek lady some years before, and the local ASPCA chapter (composed mostly of other expat English) worked to trap and neuter as many as possible.
In another part of the Zappeion Garden was a duck pond, full of hungry ducks. Around midday one of the street vendors of these wonderful fresh-baked circular pretzels, sprinkled with sesame seeds, would take his basket of unsold pretzels and sell them to parents of children who wanted to feed the ducks with them. I took a snapshot of my daughter feeding a bit of pretzel to an enormous ginger cat, which also liked pretzels, but probably would have preferred duck.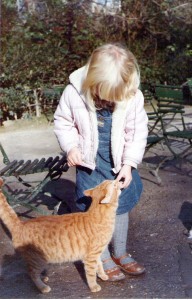 Late in summer, the street food vendors would sell whole ears of corn, grilled in the husk, and in the winter, little paper cones of roast chestnuts, eight small chestnuts or six large, for 50 drachmas, baked on a little drum-shaped charcoal grill. We would peel the cracking husk away from the "X" cut into the mealy baked chestnut and eat them whole. They had a flavor like a good russet potato, but sweeter.
The two dishes you could get everywhere were village salad made of diced fresh cucumbers and tomatoes, with a slice of feta cheese on top, and a sprinkling of oregano and pepper, and a splash of olive oil, and tatziki with bread. It is a dip, served with fresh bread, made from yogurt and cucumbers. The very best tatziki is made with yogurt so thick and rich that you should be able to turn the plate it is served on upside down, and have the tatziki stick to the plate.
Coarsely grate one medium cucumber, and squeeze out or allow the moisture from the cucumber to drain. Mash one or two garlic cloves to a paste with a little salt, and mix in a tablespoon of olive oil. Add the olive oil/garlic paste to one cup of rich yogurt, or a blend of 2/3rds yogurt to 1/3 sour cream, and stir in the grated, drained cucumber. Allow to stand for the flavors to blend, and serve with slices of bread.
I am fairly sure there are worse drivers in the world. I hear tales of the Middle and Far East where automotive anarchy reigns supreme, but the Greeks are assuredly the worst drivers in Europe, and there are auto insurance figures to prove it. At the same base in-brief where we were informed of this, we were told that in the period of a year, 50% of all automobiles registered to American military at Hellenikon AB would be involved in an accident. We could therefore expect to be involved in an accident at some point during our two-and-a-half year tour. Licensing standards and traffic law enforcement were pretty rudimentary and given the comparative inexperience of most Greek drivers, and the custom of regarding stop signs and traffic lights– when present at all—as being more of a polite suggestion than an enforced dictate. Let's just say I saw Greek drivers violating everything but the law of gravity, and doing things cold stone sober in broad daylight that Texas drivers have to be bombed on their asses at 3 AM Saturday morning to do. I actually escaped without having had an accident at all, which means statistically that some poor bastard had two, on my account. I attribute my escape to the habit of yielding the right of way at all intersections to anything else on wheels, including kids on skateboards, and assuming that stupidity on the part of other drivers would always prevail. Eschew patronizing taxis with a lot of dents and patches of primer showing, especially if the driver is a young guy. The middle-aged cabby with the new Volvo or Beemer in pristine condition may be assumed to be a much more careful driver, or at least luckier.
Balconies: every apartment building has generous balconies, almost an out-door living room/garden/front-porch combined. During the summer, people sit outside of an evening, when the cool breeze blows in from the Saronic Gulf. Even when it is hot, there is always a breeze, and the apartments are built with high ceilings and generous windows. It was the custom to air ones' bedding and sheets, draped over the balcony in the fair summer mornings. One could see quite astounding colors of sheets and duvets, hanging from the balconies all along the front of a building, It was also the custom, since building loans were hard to find, for an owner to put up the reinforced concrete pilings and floors, two or three or four stories tall, and then finish a single floor at a time, leaving an oddly skeletal concrete structure, with one finished apartment, perhaps at the very top.
They build a lot with marble, in places where we are used to wood, or linoleum or Formica, or paving. The sink and countertops in my apartment in Ano Glyphada and all the windowsills were white marble. The floors and stair treads were also marble, and particularly slippery, especially when wet. Even the steps up to the Akropolis were marble, with regular rows of chips pecked into them, in an attempt to make the footing slightly safer. I put away the leather-soled shoes, and favored crepe or other rubber soles. All the children's shoes I bought locally for my daughter had crepe soles, for an excellent reason.
Children: above all else, the Greeks I met everywhere adored children: adored them, admired them, petted and spoiled them unstintingly, and were even marvelously tolerant of tantrums and other bad behavior. While we were living in billeting, and having to eat in restaurants, my daughter, who was tired and fractious, threw a whopper of a tantrum one evening at dinner, culminated by throwing a glass onto the floor. The floor, of course, was marble, and the glass shattered like a grenade. I marched her outside and spanked her, meanwhile the waiter swept up the glass, and no one else so much as turned a hair. "Kids- they will be bad", was the attitude. "Not a problem. Here's another glass, Kyria." My daughter very shortly learned that the elderly were particularly soft touches for a piece of penny candy or a 5-drach piece, and that any Orthodox priest, or Pappa, when greeted with a sunny smile and "Yasu, Pappa!" would respond with a blessing and a little religious picture the size of a baseball trading card. The only people who got seats given up to them on an Athens city bus were war cripples and mothers with small children, and even if I didn't get a seat, someone who did have one would take her onto their lap. Elderly gentleman would amuse her with their worry beads, all the way down Vouliagmeni to our stop.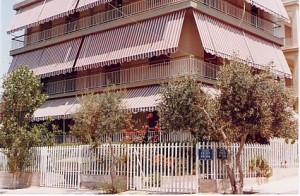 (To be continued. The whole of this essay and others are also included in the Kindle e-book, Travels With Blondie.)