(I meant to post another chapter of this yesterday – but spent all day at a book event in a mall, and came back exhausted and suffering from an allergic reaction to dust, possibly mold in the AC ducts, and exposure to a LOT of people)
Christmas in Greece barely rates, in intensity it falls somewhere between Arbor Day or Valentines' Day in the United States: A holiday for sure, but nothing much to make an enormous fuss over, and not for more than a day or two. But Greek Orthodox Easter, in Greece—now that is a major, major holiday. The devout enter into increasingly rigorous fasts during Lent, businesses and government offices close for a couple of weeks, everyone goes to their home village, an elaborate feast is prepared for Easter Sunday, the bakeries prepare a special circular pastry adorned with red-dyed eggs, everyone gets new clothes, spring is coming after a soggy, miserable winter never pictured in the tourist brochures. Oh, it's a major holiday blowout, all right. From Thursday of Holy Week on, AFRTS-Radio conforms to local custom, of only airing increasingly somber music. By Good Friday and Saturday, we are down to gloomy classical music, while outside the base, the streets are nearly deserted, traffic down to a trickle and all the shops and storefronts with their iron shutters and grilles drawn down.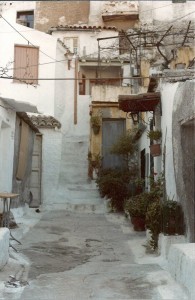 The major Orthodox Easter service is very late on Saturday night in a darkened and gloomy church and culminates at midnight, when everyone shouts "Christo Anesti!" and lights their candles in a great wave of light sweeping from the front to the back, and outside the bells begin ringing joyously, fireworks explode, car horns and ship's sirens sound, gunshots fired into the air. It makes a grand and happy racket for ten or fifteen minutes: Christ is risen, the tomb is empty, He lives, and death is defeated! The congregants scatter to their homes, and I am told it is good luck to bear away your candle and keep it lit all the way home, tracing a cross of soot from it in the lintel over your head as you step back into your home.
The great Easter feast is served on Sunday afternoon, and the tradition is for a whole lamb as the main course, roast over a grill built outside in the garden. It was rainy, on one of the Easters we spent there, but throughout the neighborhood, they were out, huddled under tarps and umbrellas, grimly turning the lamb over the smoking fire. My daughter and I had lamb for Easter dinner always after that, served with village salad, cheese pie, and a dish of dried beans cooked with tomatoes and dill.
Clean and wash 1lb large dried lima beans, cover with water and simmer until slightly softened, about 45 minutes. Sauté three large finely chopped onions in ¼ cup olive oil. Drain the beans, reserving the cooking water, and add to the onions with 1 lb. finely diced tomatoes. Add salt and pepper, and 1-2 cups of the cooking water, adding more as needed. When beans are wholly cooked, stir in 2-3 tbsp. fresh chopped parsley and 1 tbsp. fresh chopped dill.
Ano Glyphada, towards the hills, was pretty much the edge of town, when we lived here: there were still many open tracts, and the remnants of small farms and sheepfolds among the low-rise apartment blocks. One of them was around the corner from my daughter's baby-sitter. Every morning the shepherd and his pair of little raggedy dogs took a flock of sheep up the street to the open hillsides not far away, bringing them back in the late afternoon, their hooves pattering daintily on the pavement. When Kyria Penny and her husband first moved out to Ano Glyphada, there had been many fewer apartment buildings, and many more flocks of sheep; her mother in law used to purchase sheep milk for a particular creamy sweet dessert. Next door to us on Knossou Street, another elderly citizen held on to his little one-story house, surrounded with a vegetable garden and his olive and lemon trees, a flock of vociferous chickens and a number of rabbits, who had a large fenced pen next to the street. My daughter, enchanted to discover the friendly rabbits, insisted on getting her copy of Beatrix Potter's Peter Rabbit and showing it to them. She wondered why they did not wear little blue coats and slippers, like the ones in her book.
"These are Greek rabbits, "I explained, "It's too hot for them to wear clothes here."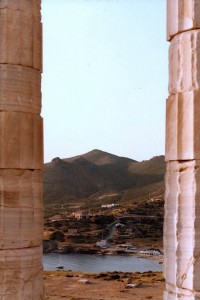 When we did a road trip, down into the Peloponnese, we visited many sprawling, and usually deserted ruins: A medieval castle at Nauplion with a thousand steps going all the way up the hill from the seaside town, the ruins of Mykenae, the sprawling Acro Corinth, and the Byzantine ruins of a whole city, Mistras in the hills above Sparta, all of them bare and baking in the summer sun, only Mykenae seemingly visited by anything more than sheep, and the occasional hiker. There was usually a tiny wooden kiosk at some sort of gate, someone taking a couple of hundred drachmas and waving us through, to explore the lizard-haunted, roofless rooms. It was rare to see another person, even rarer to see a facility… which explained the faint smell of urine in some of the far, deserted corners. I came around a corner in one of these places; would have sworn there was not another person within miles, and damn near gave a heart attack to a little old lady hoisting her black skirts and squatting to perform an act of nature. Even in Athens, decent facilities were few and far between: we used to have late lunch at a place in the Plaka, which had slow service, and rather indifferent food, but boasted air conditioning and a really, really nice bathroom. Luxury for a traveler and adventurer… a really nice bathroom.
(Final part in a day or so – this complete reminiscence is in the e-book, Travels with Blondie.)