I was half-heartedly working on a post about zero interest rates but my heart wasn't even half in it. So I picked up these kayak-rolling videos from my dealer.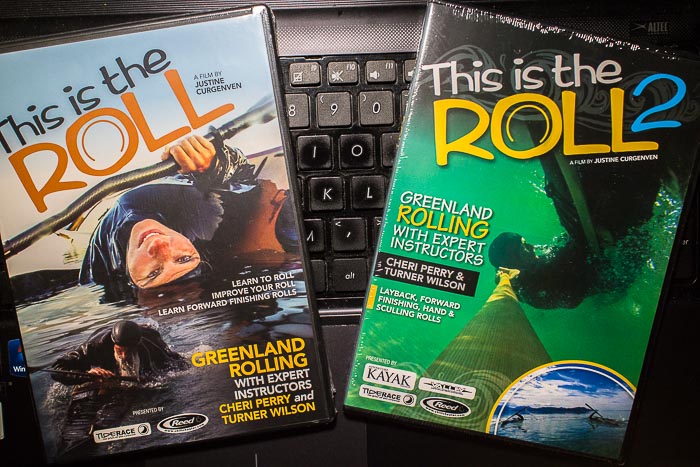 Last year I attended a rolling class put on by the couple who produced the videos. They are fun people and outstanding instructors. They travel and give rolling clinics around the world. I recommend them highly if you are into this kind of thing, which not everyone is.
Kayak rolling is an esoteric skill but it was developed for serious purposes. A Greenland seal hunter back in the day had to be able to control his kayak in all attitudes and seas. The water was cold. If he flipped and couldn't right himself promptly or became separated from his boat he was dead. The Greenlanders and other northern sea hunters, with very limited tools and materials, developed sophisticated equipment and techniques that kept them alive in extremely harsh conditions. Their boats were perhaps not as strong or watertight as modern fiberglass kayaks with sealed bulkheads, but they probably weren't much worse, and we still use the efficient hull shapes they developed. We also use updated versions of their protective clothing.
The skills are timeless. Some people are into kayak rolling as an end in itself. (Greenland kayaking, as it is known, is a bit of a cult, and I mean that in a nice way. There are rolling contests, different kinds of rolls to master, and so forth.) And many people kayak in chilly water where the ability easily to right one's self from a capsize still comes in handy.
Where I live there are few seals and the water is always warm, but I wanted to be able to roll my kayak for the hell of it. I watched a lot of YouTube videos and gave it a try, not entirely successfully. So I decided to take the class. The class did not make me proficient, but my limitations were entirely my own and I'm sure that I made more progress than I could have in any other way. My main problem was that I am physically about as flexible as a dried salami. To do a layback roll, which is the first roll they teach you and not difficult if you get the technique, you need to corkscrew your body in the kayak so that when you lay the kayak on its side your legs are almost straight, your upper body is mostly out of the kayak and in the water, and you are rotated about 90 degrees at the waist, facing the surface. This isn't a problem if you are flexible but it's a problem for me. Turner, my instructor, was very diplomatic about my need to begin a stretching program.
Regrettably, I was not able to take the rolling class this year, in part because I did something to my back recently and didn't want to risk overdoing anything until I got better. So I bought the videos to at least remind me of the skills until I can practice them again. As you can see I have not unwrapped the disks. This feels like starting a diet and taking the ice cream out of the freezer once in a while to look at without eating, but whatever it takes.