Vox Day is an alt-right figure who is a perfect illustration of why the alt-right needs to be engaged and not just thrown into the outer darkness. He's accomplished, influential, smart, and cruel. He claims to be interested in the truth. No matter where it leads, he wants to follow and his position is that at the end of any journey committed to the truth, you'll end up alt-right.
He is more correct about mainstream western society than mainstream society (left or right) is comfortable admitting. There are sacred cows aplenty in both conventional camps and people do notice them and treat those conventional pieties with the cynicism they deserve. These positions leave an opening for alternative political camps with a greater fidelity to truth. Vox Day is attempting to position the alt-right as a better-enough successor to conventional conservatism in order to reorient international politics.
But when encountering something he is unfamiliar with, does he have the guts to actually chase it down and educate himself?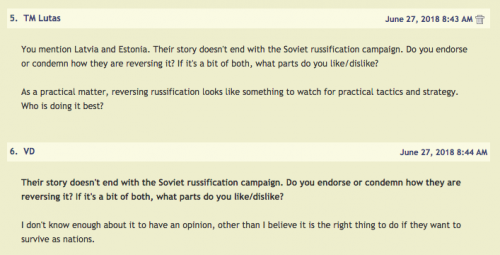 De-russification is largely about Russia's peripheral states attempting to get people to switch allegiances to the local nation from Russia. It's very close to classic American melting pot politics. It also appears to be working, something that Vox Day has made claims cannot sustainably happen when talking about the future of the USA.
So what will Vox Day do when he reads up on the subject? Will he condemn the Baltic states' efforts and be consistent across societies? Will he reassess the chances for melting pot politics in the USA and attempt to move the alt-right to a different destination? Stay tuned. The man is unlikely to leave the subject permanently unaddressed. It's too obvious a weak spot for his camp.
I'm assuming, without any evidence whatsoever, that Vox Day actually is not aware of what de-russification entails. It's the charitable thing to do. But doing so without following up is not charitable. It is merely foolish.