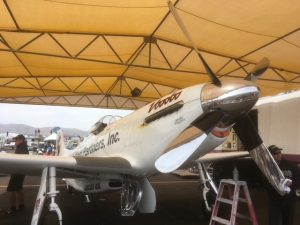 With the announcement that this September will mark the end of the nearly 60 years of the Reno Air Races, I thought I would mention my experiences there over the years. I've written about some of those experiences here, here, and here.
I started going there in the late 70s, a 2.5 hour jaunt up I-80 from Sacramento. Then (if you were lucky) no wait heading north from Reno a few miles along US 395 to Stead Field. For many years I used to make it an annual pilgrimage. I'm a bit embarrassed to say in later years I got a bit jaded wondering if "this year" I would see something new and exciting. Of course, then I realized that what I was seeing, after the great air race venues of the 30s, was probably the last of its kind.
It was all the more remarkable by the huge increase in the value of these old warplanes. I believe that the top prize for the Gold Division – the Unlimiteds – was something like $100,000? Which was huge in 1964, its first year, when one could buy a Mustang for $10,000 and go racin'. Now with fewer than 100 airworthy Mustangs, with the value of the remainder worth in the millions, even winning wouldn't cover the expenses I would think.
Those who did race did it because of the love of the race and they were very wealthy.
As far as I was concerned, the real action wasn't sitting in the grand stands but spending the extra $40 or so for a pit pass and wandering among all those magnificent Mustangs, Bearcats, and Sea Furies.
And I can't forget the T-6 trainers, which had their own class. This was the advanced trainer in WW2 (with the Navy version designated the SNJ). With their 600 hp radial engines, those were the noisiest planes I can remember!
As far as the Mustang's Merlin engine was concerned, no contestant would tell you publicly what their horsepower was (standard, with supercharger on, was 1,400 or so), but numbers like 3,500 kept popping up from the Rumor Mill. Put enough supercharger boost into the cylinders and if she holds together…
When the races started in 1964, one could get the V-12 Packard-Merlins, still packed in crates and cosmoline from WW2, for next to nothing. Now they are like gold.
The Mustangs usually dominated but there was a period of time in the 80s where the Hawker Sea Furies, with a Pratt and Whitney R4360 radial engine of some 4,000 hp, took center stage.
When the series started in 1964, R.A. "Bob" Hoover would lead the group in his Yellow Mustang and at the start of the race, pull up with the proclamation "Gentlemen you have a race!".
As the years went on, the Unlimiteds got so fast they then used a T-33 jet as the starter.
Some of my memories over the years? Seeing Bob Hoover with his trademark straw hat wandering the paddock area.
If you never saw him doing his "energy management demonstration" in his twin engine Shrike Commander, you really missed something. He had an ordinary business airplane go through maneuvers that you'd think couldn't be done, culminating with a loop with both engines off, landing and a bet with the announcer that he could taxi within 20 feet of him.
He would be trading altitude for airspeed and vice versa, making that plane dance.
Bob has been gone awhile, and his Shrike is now in the Smithsonian. If you never saw the demonstration, here it is with his explanations on YouTube.
If Chuck Yeager had told the Air Force of his broken rib incurred at Pancho's Happy Bottom Riding Club (named because the rental horses were so gentle!) the night before, most likely the history books would have shown Bob as the first man to break the sound barrier.
He was Yeager's back-up pilot.
Robert A. Hoover was Yeager's back up pilot, friend, and partner in crime.  The two were like two old school chums who got along famously.  They would egg one another on in flight and in pranks.  Yeager personally requested Hoover as his backup pilot with Colonel Boyd. Hoover once had to talk Yeager down for a blind landing in the Bell X-1.  The canopy had frozen over so badly that Yeager could not see outside.
I would have to say that my most memorable year was when I got a press pass, and a van took us away from the grandstands and out into the fields inside the course for a spot right next to a pylon. There I was, standing nearly under a pylon watching these warbirds a few 100 feet over me circle the pylon at over 400 mph.
I would always stop by the stand where Major Gregory "Pappy" Boyington would be selling his books. Some years the Japanese ace who finally shot him down would be at a stand next to him. I read his autobiography, describing his time as squadron leader of the Black Sheep, then in a Japanese POW camp.
Post war, he really had a tough time adjusting. How could you sell shoes or be a wrestling referee after what you experienced in WW2?
I bought a print from his stand one year with the inscription "To Bill Brandt – Best always – Pappy Boyington".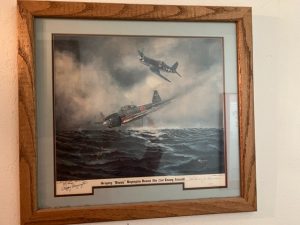 When I show people the print part of my spiel is to tell them that "Pappy was a friend of mine" – then tell them in reality he asked me as he was signing the print, "How did you say you spell your name again?"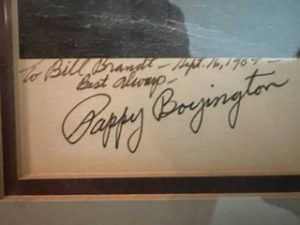 He's buried at Arlington now, his demons finally put to rest.
One year in the 80s, it was very windy. The main runway is at a slight incline, and you cannot see the planes taking off past a certain point. The Blue Angels were there, starting their exhibition in their A-4 Skyhawks, and after the main group of 4 took off, it was time for the 2 solo planes to begin their takeoff roll.
The Navy announcer is saying what they are going to do, and one A-4 lifts off, and is rolling inverted close to the runway.
It was part of the routine.
Then in a few seconds, the inverted A-4 drops below the horizon.
A few feet over the runway.
I had this sick feeling that I was going to see a fireball in the next second – even the Navy announcer stopped talking.
But thankfully, he then appeared above the horizon, able to recover. But after that year, the Blues in the A-4s never landed at Stead – they would land at the Reno Airport and do their flyover. When they got the Hornet with far more power, they again landed at Stead.
I was next to one of these Hornets once and watched them change an engine. I didn't have a stopwatch, but I swear, it seemed to take all of 30 minutes or so.
I cannot leave without mentioning the great Art Scholl. Along with his dog Aileron, he would take that Super Chipmunk into the air and do amazing things. His show would culminate with his standing up in the airplane, canopy open, waving to the crowd.
He would be killed shortly after 5 miles off Encinitas over the Pacific helping to film Top Gun – in the "flat spin" sequence. To my knowledge they never found him or his Pitt's Special.
Reno really was a special event.
The organizers aren't really giving the exact reasons they are leaving, but I suspect that it is the encroaching suburbs around Stead, with corresponding rising insurance premiums. When Jimmy Leeward had that horrific crash in 2011, I thought that would be the end. But they modified the course to have the course further away from the spectators, satisfying the FAA and the insurance companies. Although I believe their insurance went up quite a bit after that.
It really was a special event.  
Cross posted at The Lexicans 
---
03-28-23, after watching this wonderful video with Robert "Hoot" Gibson, I was apparently wrong on a few things. In addition to his being an F-4 and F-14 pilot, Space Shuttle Commander, he has won the Reno Air Races. In fact, his race in 2015, in which he won the Gold championship, was at a speed record that remains to this day – 503 mph. The prize money has been substantial, and the top Merlin engines are around 3,000 hp. It is a video of 1:25 that is well worth seeing, with great slides.