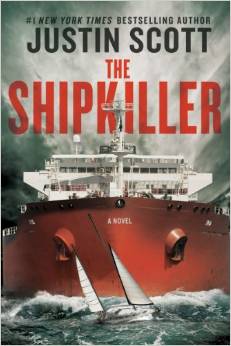 The Shipkiller by Justin Scott
.
This is a great adventure novel that is marred only by the fact that it was written 35 years ago when the Shah of Iran was still in power. The story is of Peter Hardin, a doctor who has invented the digital thermometer. He has retired and he and his wife, Carolyn, have decided to sail their ketch across the Atlantic to England. They are relaxing on a sunny afternoon in the Western Approaches to the Channel when their yacht is run down by a monstrous tanker called "Leviathan" which is enormous and is run recklessly because it carries millions of gallons of crude oil from the Persian Gulf to Europe, which makes it immune to admiralty law. The captain is impervious to criticism because no one else can sail this enormous ship. He and it are above the law.
Hardin's wife is lost and he washes up on the beach of southern England where he is found and revived by a beautiful Nigerian woman doctor. He is disconsolate and, after his recovery, decides to try to prosecute the captain for not maintaining a lookout while running his ship too fast in restricted waters. That fails and Hardin eventually tries to physically attack the captain which gets him arrested. He finally comes to the conclusion that he has no alternative but to attack the ship, itself.
After he has recovered from his injuries he buys a Swan 38, a gorgeous and fast yacht similar to the one I sailed through a hurricane in 1977. It is fast as a witch and will withstand almost any heavy weather. I sailed mine through a small Mexican hurricane, called a "Chubasco." Wikipedia calls them "violent squalls" but the one we sailed thorough lasted 12 hours and had wind speed above 60 knots where our wind speed indicator pegged.
He sails it to Europe and buys a Dragon anti-tank missile from an alcoholic soldier in Germany. He conceals the missile in a pod he has constructed and attached to the keel of his yacht. He returns to England where his boat is searched by the authorities who are suspicious of him but the concealment works and it is not found. He plans to follow Leviathan to the Cape of Good Hope at the bottom of South Africa where he will kill it with the missile. All ships rounding that Cape must follow the same narrow course and he should be able to find it.
An Israeli agent learns of his plan and offers to help with the location of the tanker. Hardin has no choice but to accept his help to avoid betrayal. The Nigerian doctor, the daughter of an senior army officer in Nigerian, asks to go with him as far as west Africa and he agrees. They develop a strong attraction during the voyage and she learns of his obsessions with the tanker. His memory of his dead wife prevents him from accepting her love and he goes on with his quest. As they near the point where he must drop her off, she finds the missile and asks to go with him. Again, he is caught between the risks to her and the risk she will turn him in. They continue and she asks him where they are going now. His answer is Winter ! The Cape in winter is a fearsome place, risky even for a ship the size of Leviathan.
The story is gripping and will hold the attention of anyone familiar with sailing. It is probably the best sailing novel I have read. The detail is excellent and the plot is well done, although dated. The author knows sailing and fast sailboats. It has a bit of the tone of an Alistair MacLean novel where the protagonist overcomes repeated and monumental obstacles. The sailing part is great.