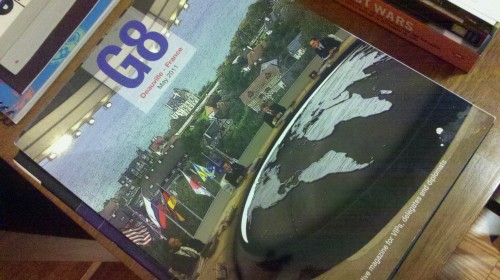 Wandering around a soon-to-be-closed Borders bookstore, I run across a glossy magazine dedicated to the G8 summit in Deauville-France (May 2011). The above is a cell phone photo of the cover. I have no idea who publishes the magazine. There are ads inside for airlines, hotels, cars, public policy institutes and various international businesses and governmental agencies. The US Chamber of Commerce and Eurochambers/The Association of European Chambers of Commerce and Industry are two such examples. Turns out that some of the articles are pretty interesting.
The cover makes me laugh, though. It's an illustration of various national leaders and their relative small size contrasts with the large conference table. Individual nations, suboordinate yourselves to the glory of the international collective of business and governmental interests!
Maybe I'm getting a tiny bit carried away here. I've always had an active imagination thanks to the reading of novels and, well, an inherently busy mind. Yoga, music, meditation, book reading: all of it calms me down. Modern urban – or semi-urban – life is filled with irritating sounds and sirens and sitting in traffic and noisy trains with vaguely scary looking passengers….
So I am going to miss browsing Borders, getting a coffee, and shaking my head at the variety of periodicals. A magazine for everyone and everything. A Special Forces magazine sits right up front along with Mother Jones, Foreign Policy and the Hudson Review. Wait a minute, shouldn't that one be in the back row?
What do you suppose the existence of a G8 magazine says about our society? Nothing remotely reassuring, I imagine. If debt ceiling drama seems incomprehensible, it's likely because a certain percentage (not all, to be fair) of our politicos spend considerable amounts of time skimming vapid briefs and dopey position papers while flipping through G8 Magazines as they jet between constituent meetings, summits, conferences and hearings. And that's their body of knowledge on a given subject.
Super.