This post on the economics of global warming research puts me in mind of the classic Bloom County cartoon below. Just substitute "climate change" for "defense".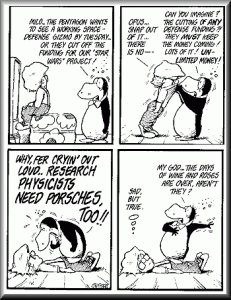 We like to think of scientists as secular monks who don't care for material things, but they have the same desires and temptations as the rest of us.
They have bills to pay and families to take care of. They enjoy the little perks of money and status (like Porsches). Certainly scientists who do make a lot of money don't live like monks.
Even if we assume that the joy of discovery, prestige in their field and a place in history motivate most scientists more than any amount of money, they still need to use someone else's money to perform the work that brings those immaterial rewards. As a result, scientists spend a disturbing amount of their time scrambling for grant money
It is also an unfortunate fact that scientists suddenly develop interest in fields that politicians are willing to fund. That is how we ended up with a big chunk of our scientists doing military research. A lot of politicians would like for global warming to be a problem and they are willing to generously fund grants for scientists whose research gives the "correct" answer.
Sad to say, but we can't discount the very real possibility that scientists are no more immune to the temptation of having tens of millions of dollars dangled in front of them than are the rest of us. Follow the money is a good rule in evaluating untested science as it is in any other field.