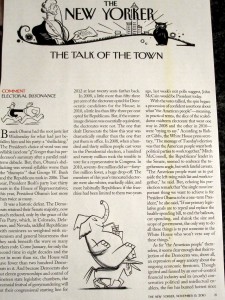 Since I subscribe to magazines and media of all type I can't help but read through the various apologies and alternate universes proposed as the Democrats attempt to parse the election results. While I try not to dwell too much on them since it is a waste of time it is worth reviewing this New Yorker article in their November 15, 2010 magazine titled "Electoral Dissonance" because it seems generally representative.
The article started out with the usual first excuse / spin which is to blame the "Tea Party" for not making it an even bigger loss for the Democrats.
The Democrats retained their Senate majority, now much reduced, only by the grace of the Tea Party, which, in Colorado, Delaware, and Nevada, saddled Republicans with nominees so weighted with extremism and general bizarreness that they sank beneath the wave so many others rode.
Really? Under the Democrats' view of the world a wave of un-reason brought on this debacle, with the electorate not "understanding" what happened, and only the actions of the Tea Party prevented an even bigger loss. This of course stands reality on its head; until the Tea Party rejuvenated the Republican party, they were flat out left for dead. Yes, the Tea Party had some loony candidates like in Delaware, but in general any reasonable observer would say that the Tea Party DROVE this "wave" that swamped the Democrats in the first place.

This year, more Democratic candidates seemed to apologize for the health-care law – notwithstanding its imperfections, their party's greatest accomplishment in generations, the fulfillment of a century-long dream – than to proclaim it.
Ah… now we are getting somewhere. Anyone remember Obama's election, along with the rest of the Democratic team in 2008? Was their talk of re-doing health-care into a gigantic government bureaucracy? No, there wasn't. But what there WAS discussion of was how the Democrats were going to work in a bi-partisan manner, as opposed to those evil Republicans.
Instead – the Democrats rammed through health care legislation with nary a single Republican vote, using every lever of parliamentary procedure to get it done and making horrendous compromises to any of their members who held their hand out. Perhaps the author of this article could have thought about that for one minute, the big "head fake" of the campaign, the false post-partisan bs on a topic that wasn't even a priority for the electorate, and then think about why the Democrats were turfed out of 60 house seats and barely clung on to their Senate lead.
There will be no more transformational legislation; it will be all Obama can do simply to protect health-care reform from sabotage. The economy, like the climate, will be left to fend for itself. And the world will watch, wonder, and worry.
The sad denouement; I can almost hear Triumph the Insult Comic Dog saying "it is all about de keeds" and some violins playing, but the reality is much different. The world today isn't viewing Obama as a leader or savior of anything; Britain turfed out Labor and is planning to BALANCE the budget, removing 500,000 government workers. Germany abhors our financial laxity; and China and Asia (see South Korea) aren't buying it. Unless you only read Paul Krugman for every bit of information you receive just watch the slow moving and unsuccessful Obama tour around the world to see the repudiation of his form of "big government", which 1) spends a lot of money 2) doesn't invest it in hard assets or knowledge producing assets, just shovels it around to favored unions, interest groups, and the non-working.
One more thing – ever wonder why your base didn't come out with bells on? Remember those wars that George Bush supposedly started in haste, before every bit of diplomacy had failed? Remember all the protests? Well the kids don't protest Obama (bad tactics, I guess) but I can't imagine that they felt good about the surge and our ratcheting up of involvement in Afghanistan and continued involvement in Iraq. Wasn't Obama going to change all that? Oh yeah, just talk. And kid – vote for me, too. Fell on flat ears. Funny that in this document rationalizing the Democratic losses this writer didn't say that while Obama used his "head fake" to accomplish what he didn't set out to do in a bitterly partisan manner he did nothing to try to accomplish what he did say he'd do, which is pull down our level of forces in these overseas wars.