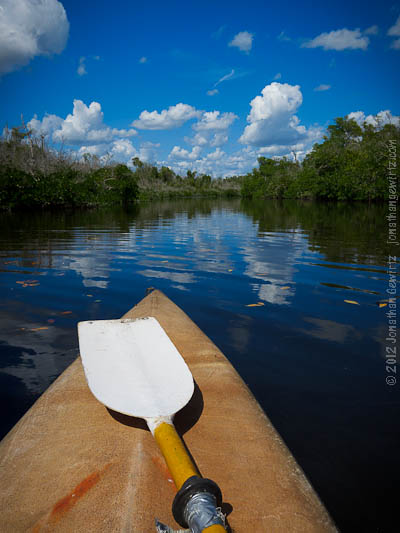 Many people canoe and kayak in the Florida Everglades' extensive inland waterways, which are beautiful, full of interesting plants and animals and easily accessible. I couldn't refuse an invitation to join friends for a day trip down the Turner River in the Big Cypress area. My friends arranged for me to borrow a kayak but its owner backed out of the trip at the last minute. Fortunately, the guy who organized the trip offered me the use of a kayak that he owns.
I hadn't kayaked before and relied on my friends to plan everything. They decided to travel opposite the usual travel direction in order to go with the tide and wind and to minimize our having to travel near other paddlers. This was a good plan. You can see our route on the map on this web page. We drove from Miami to the canoe launch on Chokoloskee Island near the bottom of the map and unloaded our gear. Then a couple of our group drove our vehicles to the canoe launch on US 41 near the top of the map and got a ride back to Chokoloskee. (Note that the fellow who put up the very nice web page I linked to paddled the river opposite the route we took, starting at US 41.) We got underway at around 10:30 AM.
I had to work hard to keep up with the others in my group. This was due partly to my inexperience and partly to the fact that my kayak, which had been the only kayak available on short notice, was a whitewater design that while very light and maneuverable was also directionally unstable and uncomfortable to sit in for long periods. To travel in a straight line required constant effort. It didn't help that I was using a short, heavy, whitewater paddle. I fell behind whenever I stopped to rest or take photos and on the many occasions when my kayak got away from me and spun back-to-front. My friends waited for me to catch up. I didn't want to delay them and told the trip organizer to go ahead without me; I would meet up with them at our lunch stop. In hindsight this was a dumb idea since I didn't know the area or how far away the lunch stop was. But I didn't know what I didn't know. Fortunately my friends did not take my suggestion. However, I think that my attitude contributed to my later difficulties. My companions and I have done long bicycle rides together. When I take a break on the bike I generally catch the group afterwards without difficulty. They may have assumed that I would do the same with the kayak. (I also rejected the trip organizer's kind offer to tow me behind his canoe. I wanted to do everything on my own and not be a burden. Also, letting another guy tow me feels kind of gay.)
We made a wrong turn down Left Hand Turner River and had to backtrack. This error cost us an hour or more and added at least a mile to the trip. It was hard and discouraging work to paddle back against the tide and wind, and I was ready to give up by the time I got back to the fork in the river. By then I was far behind our group and our trip organizer doubled back to make sure I was OK. I told him that I was going to return to our starting place and would wait for them to pick me up later. He said OK, but then he spoke with a nearby paddler, not part of our group, who said that it was twice as far to reach our destination as to return to the start, but that the total effort would be the same either way because of the wind and current. This made it easy to decide to continue with the group. (The map gives a better idea of the actual distances.)
We met up again and continued down the Turner River, more or less together, and this was a nice part of the trip. We saw a dolphin swimming about 100 feet away at one point. We often saw fish jumping. We passed a couple of osprey nests. Besides the paddler my friend had spoken with we saw one flat-bottomed powerboat — that was it for human river traffic for the rest of the day. We held our boats together and rafted downriver with the current for a while, eating, drinking and relaxing.
At some point we stopped floating together. I asked our leader about distance remaining to the lunch spot. He consulted his GPS and said that it looked like we would have to pass through about five small lakes before entering mangrove tunnels, and that the picnic area wouldn't be far after that. We pressed on through the lakes. It was easy to float with the current and wind. However, I found myself again repeatedly falling behind and having to catch up to the others. I entered one of the last lakes and my friends were nowhere to be seen. The path of least resistance was straight ahead but there was also a smaller channel going off to the right. I went straight. I passed through a couple of increasingly small lakes and then entered the first short mangrove tunnel, which left me in a small pond at the entrance of what were obviously much more extensive tunnels. No sign of my friends, and I started to think that I might have taken a wrong turn.
It was around 4:30 in the afternoon with maybe 2-1/2 hours of light left. My group was somewhere ahead but I wasn't sure where. They hadn't waited and I didn't know if they would return for me this time. I had been paddling for hours in the sun and was out of drinking water and starting to feel dehydrated. My back was killing me. There was no dry land nearby where I could get off the water and stretch my legs. My blood sugar was probably low. I had a couple of cereal bars in my cargo shorts and a couple of cans of cocktail sausages somewhere in the bottom of the kayak and should have made an effort to eat but didn't — a classic low-blood-sugar error of judgment. I noticed an alligator swimming across the channel I had just paddled through. I didn't want to spend the night alone in the mangroves if I could avoid it. I tried dialing one of my friends but my phone didn't work. I paddled indecisively back and forth a few times and then decided to turn back to Chokoloskee.
I paddled for about half an hour, maybe more, into the wind and current — hard going — making it back through two or three of the lakes. It seemed unlikely that I would reach anywhere near our starting point by nightfall, and there was almost no dry land between where I was and the canoe launch. Everything was water or mangroves, and mangroves are essentially impassable, dense thickets anchored in mud. Even if I made it back my absence would cause problems for my friends because they wouldn't know where I was or what I was doing until we could connect by phone, and I didn't have the group leader's number. I started paddling between a couple of trees near the water to gauge if one of them might provide an adequate overnight perch in its low branches.
Around this time I tried calling the group member I'd tried to call earlier. Again, no success. (I found out later that she hadn't brought her phone.) Swallowing my pride I called 911, got through to a Collier County dispatcher, explained my situation and asked if there was any way to get someone to pick me up by boat. I would have paid a lot for it at that point. But I was unable to tell the dispatcher where I was with any precision. She said that she didn't think there was much they could do and suggested that I keep paddling. I thanked her and hung up. I started paddling, feeling awful, thinking ahead to the prospect of being drenched in the coming rain (I was too hurried to photograph the beautiful rainbow above me) and an unpleasant night. Then I remembered that I had the phone number of another member of our party. I dialed him and he answered. They were at the picnic area downstream, eating lunch as planned, and had become worried about me to the extent that they had called the local park rangers. I spoke to our group leader who confirmed that I had been going the right way. I told him that I had decided to go back to our starting point and he responded very politely with words to the effect of, "Are you nuts?" He offered to backtrack and meet me at the entrance to the mangrove tunnels. Immediately I felt much better and, after calling the 911 dispatcher back to tell her that all was well, I took off paddling as fast as I could. No matter how bad you feel physically, it is amazing how much better you will feel if you gain new hope.
Returning back to the mangrove tunnels, I met our leader and another member of our group, both very gung-ho about the whole river experience. They gave me water and food. Now I felt great. We took off downstream through the tunnels in the fading afternoon light. We were trying to make time and get back to our cars before nightfall, so I didn't stop to take any photographs, but the inside of the tunnels was quite beautiful. They were also narrow, which made paddling a pain. I kept running into mangrove trunks and having to back myself out. We must have been in the tunnels for more than an hour before we emerged near the picnic area, the first solid land since that morning. (I think the picnic area was near the airboat trails on the map.) We stopped there briefly to stretch, take a leak, apply deet and, in my case, swap kayaks with the other group member who was curious to try my kayak (the leader stayed in his canoe). We left around sunset and were soon in mangrove tunnels again.
It had been raining on an off but until then not where any of us had been paddling. The sky had been full of rainbows until sunset. Now it began to rain heavily in the area we were traversing. The tunnels were dark and getting darker. We were able to navigate for a while on fading sunlight reflected from the clouds. It was actually a lot of fun. Everyone loves a benign adventure. Eventually it became too dark to see. Fortunately I had an LED flashlight, not because I planned ahead but because I usually have a flashlight. Neither of my companions had one, because none of us expected to be out after dark. We spent the next couple of hours paddling through dark tunnels with me holding my flashlight between my knees in this much more comfortable kayak. Without the flashlight we would have had to wait for the almost-full moon to rise — another few hours — or camp out at the picnic area. It rained during most of this time and I and one of my companions were shivering heavily by the time we finally arrived at US 41 and the rest of our group at around maybe 9:30 PM. We got cleaned up and drove back to town and went out to dinner together and now have a story to tell.
For me, some of the day's experience was fun, some of it was unpleasant and all of it was interesting. I think it could have been a much better experience if I had done a few things differently. What did I learn (or relearn)? Here is an initial list of lessons:
-It doesn't matter who is planning a trip or how experienced they are, it is still your responsibility to familiarize yourself with the route and the terrain. Carry your own map. A GPS wouldn't hurt either, but a map is fundamental and doesn't depend on batteries or a signal.
-Again, no matter who is in charge and how good they are, your safety is your responsibility.
-Carry enough clothing, water and food to be comfortable if you have to spend a night or two outdoors.
-Carry food in such a way that you can get to it easily if you feel yourself bonking. Maybe in theory water is more important and you can go two weeks or whatever without food, but in practice you may have difficulty remaining mentally sharp if you don't eat regularly, particularly if you are doing sustained physical work. If you are not thinking well you can make bad decisions that really endanger you. In particular, you should probably force yourself to eat if you haven't eaten in a while and start to feel a sense of hopelessness. It may be nothing more than low blood sugar.
-If you are doing something like paddling or bicycling all day in hot weather it's not a bad idea to bring along some salted nuts or potato chips. You will learn from experience how much salt you need: if you crave salty foods afterwards you probably need more of it. Gatorade isn't enough.
-Yes, I know that you shouldn't depend on your cell phone, but take it anyway. If it works it can be a godsend. Now that many people use their phones as cameras and check email wherever they are, more people are likely to have their phones with them and be reachable in semi-remote places. (And of course some phones have GPS.)
-Carry a flashlight. Even better, carry a flashlight that you can strap onto your head so that your hands are free. Ideally, carry a good-quality waterproof flashlight that you can strap onto your head. I dropped my inexpensive light into the water in the bottom of my kayak a few times, and while it continued to function I noticed at the end of the evening that it was glowing after I turned it off, which I think means it was leaking and would have failed eventually.
-Positive attitude is extremely important. Never take counsel of your fears and all that. If you can conduct your adventures together with people who see things positively and don't go to pieces at the prospect of a night in the woods or other minor setbacks, so much the better.
-Individuals differ widely in their physical capacities. Some people can go all day without eating and feel fine. Others need to eat regularly to stay alert, upbeat and warm. People of the first type, if they are in charge (and they often are because they tend to self-select for strenuous outdoor activities), may underestimate the importance of eating and warmth for people of the second type. Keep this in mind and be ready to take care of yourself if you get cold or hungry easily.
-A waterproof camera is a great thing. I sealed my camera in two Ziploc bags, which protected it but made it difficult to use. I would have loved to be able to get some photos in those rainy mangrove tunnels.
-Other lessons? Feel free to add your suggestions in the comments.