Posted by David Foster on December 31st, 2012 (All posts by David Foster)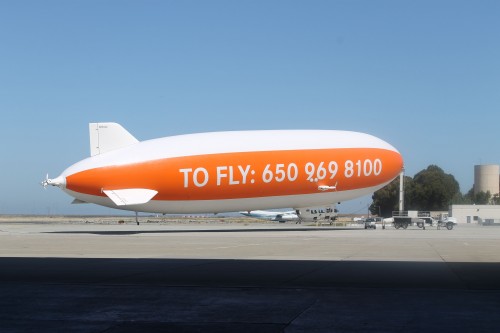 I've long been intrigued by airships, and was pleased when several years ago it was announced that the German company Zeppelin Luftschifftechnik GmbH had developed an advanced-technology dirigible design…the Zeppelin NT…and was offering it for sale. I was even more pleased when one of these aircraft, named Eureka, was acquired by an American startup, Airship Ventures, with the intent  of putting it in commercial service for sightseeing rides. And a bit later, I discovered that Airship Ventures was offering a zeppelin pilot experience program, which allowed  licensed pilots to attend a 2-day training program culminating in actually flying the zeppelin (with an instructor, of course.)
I participated in this program earlier this year: it was a lot of fun and I'd been intending to write a blog post about it. But I got a lump of coal in my Christmas stocking when I was flipping through an aviation magazine and learned that Airship Ventures has suspended operations for financial reasons. The problems are (a) the general economy, (b) lack of economies of scale, as AV is operating only one ship, and (c) the greatly increased price of helium. (The Zeppelin NT is designed to minimize helium loss, but some such loss in unavoidable.)  Attempts to locate a major sponsor who would provide enough funding to keep the airship in business were unsuccessful, and Eureka (which was apparently acquired by AV under a lease arrangement) has been dismantled and is on its way back to the manufacturer in Germany,
I'd have thought that there would have been a number of firms that could creatively take advantage of the uniqueness and great visibility offered by the zep, and am really surprised that no sponsor surfaced: AV CEO Brian Hall put the cost of sponsoring the airship for a year at about the same figure as the cost of a one-minute Superbowl ad.
In response to my inquiry about the ship's status, the company did indicate that if a major sponsor should appear at this point they would be able to restart operations, albeit obviously with delays and higher costs than would have been the case had they been able to maintain continuous operations of Eureka.
Three Zeppelin NTs are being acquired by Goodyear as replacements for their blimp fleet, so Americans will still be able to enjoy the sight of zeppelins in our skies…but it is unlikely that rides will be offered to people not closely connected to the Goodyear company.
Very sad. Hopefully, at some point an improving economy, combined with adequate sponsorship and an ability to achieve sustainable scale, will allow AV to bring passenger zeppelins back to the United States.
In the meantime, Zeppelin NT rides are still available in Germany…I see that 11 different routes are now available.
Some additional links:
Mercury News articles here and here
Some nice pictures of Eureka over the Sonoma coast