One of the little know stories of D-Day is the fact that a British Royal Air Force early warning radar unit — the 1st Echelon of 21 Base Defence Sector — landed at the Les Moulins Draw, on Omaha Beach, Normandy about 5:30pm on 6 June 1944.
The 21st BDS's mission was to operate British ground control intercept (GCI) radar truck convoy the first night of the invasion so British night fighters could cover the Normandy beach head from Luftwaffee "night heckler" bombers with German SD 2 Schmetterling (butterfly) cluster bombs.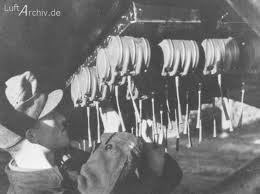 Of the 180 men of the 21st BDS that landed there, eleven men were killed and 37 wounded. That is a 26.7% casualty rate for the assault. When actor Tom Hanks says Obamha Beach was "an all American affair," these are some of our British Allies he is slighting.
You can find their story at this link —