Saw this comic book cover displayed at the Computer History Museum last summer: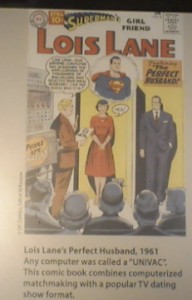 …had to search around the Internet to find the story. It seems that a friend, knowing that Lois will never get anywhere with Superman, tricks her into appearing on a TV program in which the UNIVAC computer is used to find ideal matches for people. When she is called on stage, Lois agrees only because she thinks it might make a good story for the newspaper.
How does it turn out? You can read the whole story here.