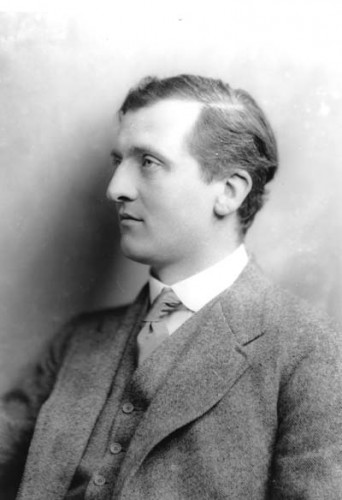 T.E. Hulme was a poet and critic who died leaving behind a very small corpus of work. Nonetheless, he is considered to be an influential figure in artistic modernism, and more tenuously, in modern conservatism.
Further, Hulme was an English version of a peculiar type of artist and intellectual that emerged in the early 20th century, which we rarely see anymore: A radical reactionary, a revolutionary conservative, or an anarchistic tory. On the Continent, these sorts of people tended toward fascism. An excellent book on this era is The Generation of 1914
.
In the English speaking world, they tended to be religious and cultural conservatives. T.S. Eliot falls into this category. My favorite, Evelyn Waugh falls generally on this part of the spectrum, as well, though Waugh is a late specimen of the type, and on the more pugnacious side, which I like.
This is a nice passage from Hulme, which shows the problem of politics filling the vacuum left by religion. The world is divided into two groups — those who face the reality of original sin (not necessarily by that name), and those who deny it or avert their eyes from it. Hulme was the former.
Put shortly, these are the two views, then. One, that man is intrinsically good, spoilt by circumstance; and the other that he is intrinsically limited, but disciplined by order and tradition to something fairly decent. To the one party man's nature is like a well, to the other like a bucket. The view which regards man as a well, a reservoir full of possibilities, I call the romantic; the one which regards him as a very finite and fixed creature, I call the classical.

One may note here that the Church has always taken the classical view since the defeat of the Pelagian heresy and the adoption of the sane classical dogma of original sin.

It would be a mistake to identify the classical view with that of materialism. On the contrary it is absolutely identical with the normal religious attitude. I should put it in this way: That part of the fixed nature of man is the belief in the Deity. This should be as fixed and true for every man as belief in the existence of matter and in the objective world. It is parallel to appetite, the instinct of sex, and all the other fixed qualities. Now at certain times, by the use of either force or rhetoric, these instincts have been suppressed – in Florence under Savonarola, in Geneva under Calvin, and here under the Roundheads. The inevitable result of such a process is that the repressed instinct bursts out in some abnormal direction. So with religion. By the perverted rhetoric of Rationalism, your natural instincts are suppressed and you are converted into an agnostic. Just as in the case of the other instincts, Nature has her revenge. The instincts that find their right and proper outlet in religion must come out in some other way. You don't believe in a God, so you begin to believe that man is a god. You don't believe in Heaven, so you begin to believe in a heaven on earth. In other words, you get romanticism. The concepts that are right and proper in their own sphere are spread over, and so mess up, falsify and blur the clear outlines of human experience. It is like pouring a pot of treacle over the dinner table. Romanticism then, and this is the best definition I can give of it, is spilt religion.
From Romanticism and Classicism (1911).
I recently stumbled on this essay in an excellent review-essay about Hulme, entitled "The Importance of T.E. Hulme," by Roger Kimball. Roger was reviewing The Collected Writings of T. E. Hulme
edited by Karen Csengeri [Jonathan adds: It's also available here.] (It is pricey: $187.25. I put it on my wish list
. Perhaps my ship will come in some day.) Another book I would like to get is The Short, Sharp Life of T. E. Hulme
, by Robert Ferguson. This short biographical article is good. This piece, T.E. Hulme, The First Conservative of the Twentieth Century, is also good.
Hulme was an active and vigorous man. He wrote plainly and forcefully. He asserted opinions without any mealy-mouthing. He got into fist fights over philosophy and poetry.
Hulme rejected pacifism. He enlisted in 1915. He believed the war against Germany was necessary. He served in the artillery, and he did not survive the war. On September 28th 1917 he was "hit by a shell and literally blown to bits." He was 34 years old.
People who didn't like him, pacifists and socialists who attracted his ire, said he'd have become a fascist if he survived. I don't believe that. T.S. Eliot, who knew him well, said he was "classical, reactionary and revolutionary." Roger Kimball describes him: "Emphasizing the idea of original sin; proclaiming a classicist aesthetic; disparaging the romantic ideology of progress; insisting on the importance of honor and physical courage: in these and other ways Hulme was about as politically incorrect, avant la lettre, as it was possible to be."
Hulme was a conservative, and he was a conservative of the type we need today, unafraid of the tumult and transformations of his times, beyond caring about stepping on toes or giving offense, with the imagination and confidence to actively apply the enduring and the permanent to the unfolding and the emergent.
I wish we could have him back for a while.
We might get drunk and fight. We might hit it off.
Either would be fine.