In previous History Friday columns and comments I have laid out that a great deal of the institutional and academic histories we have of the Pacific Theater of World War 2 are deeply flawed. These flaws are from both the post WW2 political and budget agendas of those governmental institutions and from the lack of understanding of the significant on-the-ground details by more recent academic and general histories.
Following that theme, this week's Pacific War History Friday column is the first of several that will deal with the concept of "engineering measurement unit conversion error" as it applied to the fighting in World War 2's Pacific theater. By "engineering measurement unit conversion error" I mean problems similar to the one that destroyed the 1999 NASA Mars Climate Orbiter. NASA engineers missed an English system to metric system measurement unit conversion which caused the Orbiter to be lost. See this article "The Quick 6: Six Unit Conversion Disasters" for that and other examples.
It turns out that there were two major "engineering measurement unit conversion error" issues between the US Army and US Navy that affected Radar, gunnery and general topographic map making between the US Military services in the Pacific.
The first issue was that the US Navy used nautical miles while the US Army used statute miles. The way this issue was dealt with was to give performance in a unit of measure both services could agree too — namely yards – for gun performance and for Radars involved with naval fire control, anti-aircraft and coast artillery.
See Joint Chiefs of Staff document: "U.S. Radar – Operational Characteristics of Radar Classified by Tactical Application" FTP 217, 1 Aug 1943.

This inter-service cooperation on gunnery and Radar directed gunnery lead to impressive amphibious gunfire support and air targeting plans like this one from Pelilu in 1944 —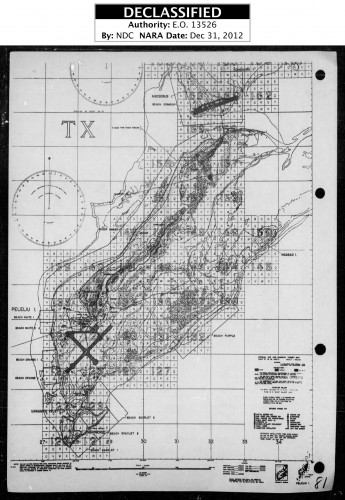 The problem with this Solomon like dividing of the baby was that this did not help US Navy and US Army units out in the field with other types of Radar that didn't have their ranges converted to yards. One of the US Navy ARGUS Radar units war diaries I read made the point that the US Army designed and built SCR-270 Radars it used had calibrated range dials in statute miles, and per US Navy procedure it had to report to Naval fighter directors ranges and speeds in Nautical miles!
This passage is from ACTION REPORT OF ARGUS 21 AT KWAJALEIN, 1 FEBRUARY- 29 FEBRUARY 1944 —
The fact that the range dial of the 270 D is calibrated in statute miles makes it necessary to use some sort of conversion to get range in nautical miles. It is mandatory that ranges be given in nautical miles due to fact that Navy and Marine air speed indicators read in knots and Fleet doctrine prescribes nautical miles.
ARGUS 21 dealt with this issue by recalibrating the SCR-270 radar pulse timing to get a 1.15 increase in range to get the calibrated dial to show nautical miles rather than statute miles. This timing change also increased the minimum range of the Radar by the same amount, but let it report data in US Navy standard data format.
That "US Navy standard data format" brings up the second major "engineering measurement unit conversion error" problem in the Pacific. The issue of reporting data in Polar versus Cartesian/Grid coordinates. The US Navy had used Polar coordinates for reporting Radar data for reasons of naval tactics in screening capital ships from torpedo attack by enemy Destroyers. When it moved on to using radar to direct fighters against incoming enemy raids, it continued the practice.
The US Army used grids on maps for conducting indirect artillery fire. The US Army learned this from the British Army in World War One and expanded upon it in the interwar period and both the US Marines and US Naval surface forces used the same system (See Peleliu figure above). When the Royal Air Force adopted the same grid system for fighter direction in the Battle of Britain, the US Army Air Force copied it after Pearl Harbor.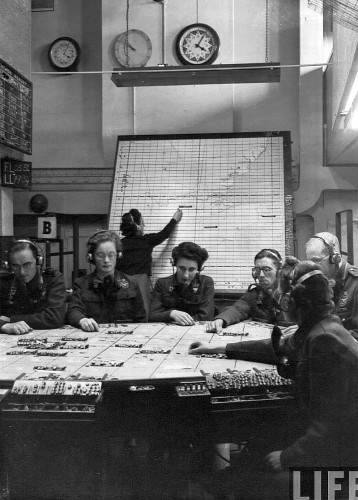 And then used it through out the Pacific War including in the Solomons Campaign of 1942-1944. See photo below —
This US Army versus US Navy clash in Radar fighter direction data reporting paradigms was a major factors in both the Northern Solomon's and Okinawa campaigns, which will be the subject of future columns.
Notes and Sources:
Mars Climate Orbiter links —
edition.cnn.com/TECH/space/9909/30/mars.metric.02/
http://mentalfloss.com/article/25845/quick-6-six-unit-conversion-disasters
http://www.funnyjunk.com/funny_pictures/4591481/Nasa+Lost+125+millon/
Military —
ACTION REPORT OF ARGUS 21 AT KWAJALEIN, 1 FEBRUARY- 29 FEBRUARY 1944
COMINCH P-013, RADAR BULLETIN NO. 6 (RADSIX), CIC MANUAL, UNITED STATES FLEET, HEADQUARTERS OF THE COMMANDER IN CHIEF
http://www.history.navy.mil/library/online/cicmanual.htm
"U.S. Radar – Operational Characteristics of Radar Classified by Tactical Application" FTP 217, 1 Aug 1943 http://www.history.navy.mil/library/online/radar.htm#contents