(A diversion – the surprising high school football traditions in Luna City. This particular project is coming right along, and may yet be my next book. More chapters are posted at my book website, here.)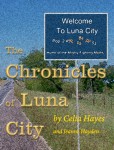 The marquee sign outside Luna City High School makes note of the fact that the school is home to the Mighty Fighting Moth Football Team – District Champions – 1967 – 1971 – 1974. That there is only a small space left to insert another champion year or two is clear indication that the Mighty Fighting Moths football coach, school administrators and team boosters have completed their journey through denial, anger, bargaining, depression, and accepted the sure and certain knowledge that there will likely never be another district championship in their future with quiet fortitude. It's not that the Moths lack heart and determination; players and boosters alike begin each football season in the spirit of game optimism, and in the hope that maybe this year the Karnesville Knights or the Falls City Beavers – which are the two regional football powerhouses and die-hard rivals – will not be able to defeat them 80+ to 6 with the casual absentmindedness of a man swatting a fly while thinking of something important. Texans live for high school football; it is simply the expected thing to do, and Luna-ites are heart and soul Texans, even those who came from somewhere else, like the Walcotts or the Steins, or Chris who bartends and manages the Ice House, Gas & Grocery.
It is simply the Done Thing – although why the Moths have not had a purely winning season in four decades is a matter of passionate discussion at the Café & Coffee, the Icehouse and regular BBQ picnics at the VFW. The usual conclusion is that this is due to the relative shallowness of the bench, as Luna City High School is a relatively small one. However, Dr. Stephen Wyler suspects dark machinations on the part of realtors in Falls City and Karnesville. He is convinced they have carried on a forty-year plot to offer absurdly good deals on residential real estate to families of sturdy youths with good athletic prospects in an organized effort to maintain a large pool of players. Most Moth boosters dismiss that theory, as well as criticism of the Moth's current coach, Dwight Douglas "Music Man" Garrett, for he has only been coaching for the past decade. His immediate predecessors were renowned coaches of football in the old-school style, and one of them had overseen the Fighting Moth's last winning streak. Otherwise, it is as much a mystery as the wholly unexplained random disasters which strike the Moth's homecoming games with disturbing frequency, ensuring that liability insurance for participants and spectators is always paid up.
The Mighty Moth Homecoming game is most usually held in conjunction with Founder's Day – a local celebration marked by a parade through Luna City led by the Mighty Moth Marching Band, a carnival set up in Town Square, and numerous other events, culminating in a football game on the Luna High School home field. It is a matter of historical record, however, that every few years, the game is disrupted, delayed, or even cancelled entirely due to an unforeseen accident. Sometimes this is due to human agency or a suspected misfiring prank, and sometimes to what can only be described as a freak of nature, such as in 1988 when Hurricane Gilbert roared through Texas, and a small tornado touched down on the Luna High playing field shortly before game time. Four years previously, excessive flooding from another tropical storm produced the interesting phenomena of a plague of frogs invading the field. During one Homecoming game (the year is a matter for intense disagreement) excessive leaking from a cracked water main dissolved a layer of limestone underlying the end zone, resulting in a substantial sinkhole opening up in the guest-team end zone – fortunately during half-time. The only near-casualty was the Falls City Beavers mascot, who happened to be standing in the end-zone, but he was pulled clear by quick-thinking bystanders who managed to catch ahold of his costume tail. In the mid-1990s, the Beavers mascot was a casualty of yet another Moth Homecoming incident; attacked by a live beaver, which inexplicably appeared just before the game. A human prankster was suspected; since then, Falls City has been reluctant to participate in Moths Homecoming games.
Human agency was involved in the stampede of nilgai antelope from the Lazy W Ranch, which broke up the 2000 Homecoming game. A section of high-fenced game pasture abutted on a paved service road near the high school. A quartet of poachers, taking advantage of Founders' Day festivities appeared with a stock-hauling trailer, and having lured a dozen nilgai close to the fence, cut the fence and attempted to load them into the trailer. The nilgai were not cooperative, and galloped away in a body … straight across Moth Field. The most recent Homecoming game disruption was also in the form of an escaped large animal: one of the Wyler's breeding bulls, who upon escaping from durance vile, inexplicably became enamored of one of the marching band's tubas. The tuba player, understandably traumatized by the experience, immediately gave up marching band and switched over to playing the piano.
Which brings me to the Mighty Fighting Moth Marching band; the redeeming bright spot in Luna City's sports program. Under the direction of Coach "Music Man" Garrett, they have swept band competitions from Laredo to Richmond, to Amarillo and Texarkana for the last ten years, with a combination of razzle-dazzle formations and mind-blowing musical selections. Their marching-band rendition of Orff's O Fortuna is a show-stopper, although at least half the student body is convinced that the number is really called Gopher Tuna. Moth boosters comfort themselves over yet another double-digit to single-figure stomping on the football field by contemplating the case full of glorious band competition trophies on display in a glass case in the main foyer of the high school. And of those graduating Luna City students to go on to college? A good number of them go on band and music scholarships.
The PTA and Booster Club, though, keep a particularly thick cushion of funds, on hand, in expectation of the next Moth Homecoming disaster. As the last one was three years ago, the time is more than ripe for the next.