(A diversion, in the form of an excerpt explaining the background and history of Luna City, especially one of the most prominent and long-established local extended family. This is forming up to be one of my next books, hopefully finished by the end of the year.)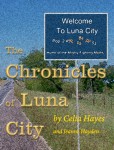 The main farm-to-market county road, which skims past Luna City does not actually go into the heart of Luna, per se. The old McAllister house is there, of course, set back from the roadside in a lavish and well-tended garden set out in Victorian design – a lady tastefully withdrawing her immaculate skirt from the dirt of vulgar commerce and transportation. The house itself is set at a slight but perceptible angle from the roadway itself, which the cognoscenti know is proof that the house predates the road by any number of years. Miss Letty McAllister, whose family home this is – is now in her mid 90s, the oldest living inhabitant of Luna City, and the living repository of civic memory, public and private. It has been at least twenty years since Miss Letty has seen to maintaining the garden; one of the myriad Gonzalez-with-an-z family enterprises sees to that.
The sprawling and interrelated clans of Gonzales-with-an-s and the Gonzalez-with-a-z are acknowledged freely by all Luna-ites to be the oldest family in the area – their shifting residency within five or six miles of the place where the road between San Antonio and the coast crosses the river – where Luna City would come to be – predates the founding by at least a hundred and twenty years and possibly more. There are supposed to be records in the colonial archives in Madrid, Spain, of a royal grant to a Don Diego Manuel Hernando Ruiz y Gonzalez or Gonzales of a league and a labor of land in the area. In 1968, there was a careful archeological excavation made of the foundations of a small adobe brick building not far from the present-day main gate to the Wyler Lazy-W Ranch. The results were included in A Brief History of Luna City, since Dr. McAllister was privy to the reports of findings. It was judged to be a residence by the eminent archeologist from San Antonio who oversaw the dig – but a relatively comfortless and primitive one: two thick-walled rooms, sheltering humans in one and draft animals and goats in the other.

At the presentation of the results of that dig at the regular meeting of the Luna City Historical Society in August, 1970, the eminent archeologist gave it as his considered opinion that it had merely been a barn and bunkhouse for hired shepherds, and never a permanent residence. Jesus Gonzalez, Senior, then paterfamilias of that branch of the clan insisted heatedly that no, the site thus excavated had been that of the ancestral home – nay, mansion – which family folklore insisted had been adorned with many imported refinements, furnishings and ornaments. Since the elder Mr. Gonzalez had come straight from his place of business – the Gonzalez Auto Engine and Body Repair shop, after a frustrating day of doing battle with an ancient and recalcitrant tow truck – the eminent archeologist was curtly dismissive in his reply. He riposted that if so, his excavation had failed to find the slightest trace of evidence for such an establishment, to which Jesus Gonzalez gave as his considered opinion that the archeologist was incapable of locating his posterior with a compass and topological map and moreover that the archeologist's female ancestors had engaged routinely in unnatural congress with barnyard animals. A lively and stimulating discussion emerged, which was only concluded when Dr. Wyler, chairing the meeting in his office as president of the Historical Society, drew his ancient 1911 model Colt pistol from his briefcase and forcefully requested a return to civility and decorum. Meetings of the Luna City Historical Society occasionally become that heated.
The Gonzales and Gonzalez families – so tightly braided together by two hundred years of intermarriage that the family tree is a kind of Gordian knot, resistant to all mapping by genealogists – are a considerable force in the daily doings of Luna City and environs. Jesus Gonzalez, Junior, inherited the familial auto repair shop along with his father's position as head of the clan. His sons and nephews drive the wrecker which will come in response to a call for help from unlucky motorists along a twenty-mile stretch of county road, and tend to all aspects of maintaining and repairing automobiles, trucks, motorcycles, and farm machinery. Gonzalez and Gonzales brothers, sons, nephews, and cousins of every degree are profitably employed in a construction company which has built those few structures in Luna City which date from later than the middle of the last century, the HVAC company – always in demand during the 100-degree summers for which South Texas is so famed – cesspool pumping, and lawn and garden maintenance. The residences of the Gonzalezes and Gonzaleses are salted fairly evenly throughout Luna City and those fringes where town begins raveling out into open countryside.
They tend to live in small, early 20th century bungalows with sagging porches, or plain stick-built bungalows of a later date which resemble Monopoly houses with sagging roofs, or in aging double and triple-wide trailers, surrounded by construction vehicles, trailers, tractors, and off-road vehicles. It is indeed curious and more than a little ironic that for people so deeply and professionally involved in construction, landscape maintenance and auto repair, their own residences usually could do with repairs and paint, the yards are most often a wilderness of tall grass and overgrown shrubs seeded with junk, and their own motor vehicles are aging miracles of rust held together with Bondo, duct tape, bailing wire, splotched with primer, and the occasional missing window replaced by a piece of plastic sheeting and duct tape.
As a general rule, the Gonzaleses tend to be rather more bookish, cerebral, even. The slightly younger brother of Jaimie Gonzales – head of that branch of the clan – was moved as a young man to apply to join the State Department, and was subsequently assigned all over South America for thirty years. He now lives in an upscale townhouse in San Antonio, where he is writing a beautifully-illustrated book about opera houses in South American cities. Jaimie Gonzales's nephew, Sylvester, who served in the US Marines for a much shorter period of time as a field wireman, now sees to the maintenance needs of those Luna-ites who have computers and cellphones.
It should also be noted that Gonzalezes and Gonzaleses make up better than half of the surnames on the membership rolls of the Luna City VFW post both past and present, and about a third of the names carved onto the four facets of the war memorial in the corner of Town Square, opposite Abernathy Hardware. Fifteen Luna-ites currently serve on active duty – Army, Navy, Marines, Air Force … and a single volunteer for the Coast Guard. Young Horatio Gonzales was always a non-conformist. Miss Letty noticed his disinclination to color between the lines, when she taught him in the first grade at Luna Elementary, and confidently predicted his eventual career.
Members of the VFW meet informally on Saturday afternoons in the VFW hall, around in back of the Tip-Top Icehouse, Grocery and Gas. This is the faded desert-pink building which used to be a temporary classroom at the high school, until construction of the consolidated high school in 1989 made the old temporary structures surplus to needs. Roman Gonzalez, construction foreman, did not want to see a perfectly sound building go to waste, not when the previous VFW post building was disintegrating under a simultaneous attack by carpenter ants, black mold and general rot. He rounded up the required equipment and volunteers, raised the building on wheeled jacks, and then carefully inched the old pink classroom down Oak Street, around the great oak that sits at the intersection of Oak and West Town Square, and out to it's present position. The presence of the Mighty Fighting Moth Marching Band – who happened to be in practice on the day when Roman and his friends came to move the building – added considerably to the occasion by playing umpah-band selections and slow-marching in front, as it advanced from its old to the new location. Yes, indeed – every day is an excuse for a parade, in Luna City.