This is not the same as who the President should be. Richard Fernandez has some ideas on what he (or she) should be like.
let me suggest that only four things matter in selecting a man (or woman) to face a challenge whose present dimensions cannot be predicted. For purposes of debate, let these four qualities in descending order of importance be:
1.An ability to face the facts, however unpleasant they may be.
Yes, this is critical and we have had enough of liars and careerists. Is Trump a liar ? I don't know.
2. An unswerving patriotism. This is not the same as a sincere feeling of love or empathy for America, though that is good. In this context it means the willingness to share the fate of the principals of which he is an agent.
Yes, we are ruled these days by elites who do not plan to share any pain. This is unrealistic but they have been raised to believe they can avoid unpleasant reality. What do we do about this ?
3. Nerve. This is the quality of grace under pressure who no one, unless he has the misfortune to be tested, can be sure he possesses.
Yes, the only real test is the reality and then it is too late. A few have tried to analyze this, and it is not easy.
some individuals did not panic because their body naturally protected them.
Unlike the majority of people who were flooded with a stress hormone, they had much lower levels and also showed signs of another hormone that actually calmed them down.
He referred to Chesley Sullenberger, the pilot of the aeroplane that was successfully landed on the Hudson River in New York last month, as an example.
"There are some individuals who when confronted with extreme stress their hormone profile is rather unique," he said.
"It doesn't reach the same peak as the rest of us. So we're all ready to scream in our chairs, but there are certain individuals who just don't get as stressed.
"Their stress hormones are lower and the peptides that down-regulate that stress are higher, so you can see in action the hormonal regular system really hitting overdrive.
"Certain people are cooler under pressure and they perform very, very well during these periods of time."
In his novel, Once an Eagle
by Anton Myrer, the author was critical of men in combat who had no fear. They are abnormal and dangerous. Still, Hemingway defined courage as "Grace under Pressure," and that implied that fear was still present.
In the movie "Patton" an incident was described in which George S Patton Jr attacked three men who he believed to be kidnapping a woman.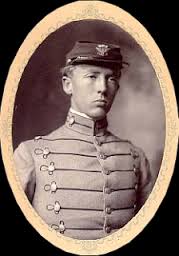 Does Trump look like the young Patton ? They seem to have similar expressions.
My own life has been lived as a surgeon and there are surgeons who take beta blockers to deal with tremors caused by high levels of stress hormones. I have never had a problem with anxiety during surgery but, of course, I am not the one under the knife.
4. Intelligence. This is important, because it determines basic competence. But it surprisingly the least important attribute in this list. Intelligence, though rare, is not nearly as hard to find as the 3 characteristics above. You can find staffers who can give you intelligent advice. You cannot find staff to give you a character that you do not possess.
This is so obvious that it should not need to be said but we are ruled by staffers.
What do we make of all this ? I don't know. Trump is an interesting character and I have no idea how he would function as president. I do think we might get a chance to find out. We should know more in a few weeks.