Ever feel a bit chilly while you type away at the keyboard?
I do every so often. But then I just turn the heat up a little and let the furnace perform the function for which it was designed. After all, I'm not living in an electricity free yurt on the wind swept steppes.
But I can't control the temperature if I'm visiting a public place, nor can I safeguard my privacy if someone should decide to look over my shoulder while I'm blogging on my laptop at my local shooting range which has a wifi hotspot. But artist Rebecca Stern has a solution.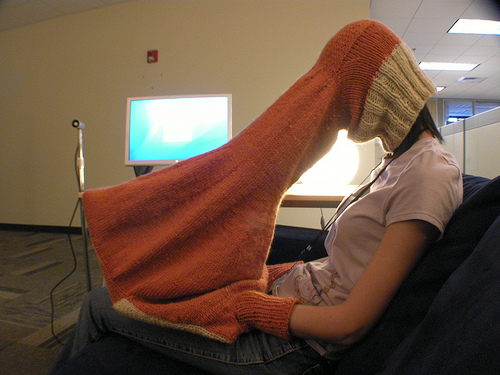 This is something that she knit for her own use, and it doesn't appear that she is marketing them. So you are out of luck if you are desperate to appear in public as if you have your head inserted into a cow's orange rectum.
For the record, I would never be caught dead in something like that. It would destroy my situational awareness, something that is a Cardinal sin for anyone interested in self defense. But, more importantly, I certainly don't want to give anyone yet another reason to have a laugh at my expense.