I used to admire watches, little nuggets of technology that rode along on your wrist. I loved the digital watches that had games built into them that came out in the 1980's…..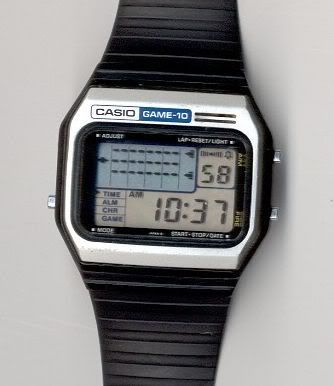 …but eventually gravitated to rugged, military style, mechanical watches with Tritium inserts so they would always glow in the dark.
This changed four or five years ago when I finally decided to buy a cell phone. Even though it was a cheap giveaway model that was passed out when I signed a 2 year contract with my service provider, it was still laden with enough gadgets and features to make my geeky heart sing. It had a calculator, a calender, an alarm clock, a stop watch, an international time function, and a note pad so I could write stuff down. I could even download and play games on my phone, even though I have never bothered.
You would have to buy an array of watches to enjoy all those functions way back when, and now they were included in my cell phone as a minor selling point. Pretty cool, but there is also a crappy VGA camera as well. Not many watches also had a camera built in.
Don't forget that this is a four year old phone that was given away for free even back then. Nowadays you can spring for a phone that is a media center, allowing you to access the Internet, watch TV or movies, and play music. It would take far more free time than I have to use all those functions, so I have deliberately avoided upgrading. But I will probably get a phone with a better camera when the one I have now eventually succumbs to all the weather to which I keep subjecting the poor thing.
Chris has found that a watch is so much more convenient than a cell phone when he is filling out incident reports. Just glance at your wrist instead of pulling your phone out of the belt pouch, press the button to get the face to light up, look at it to determine the time, and put it back. He is more interested in pure function than anything else, though. The time is the only thing he really needs from his watch.
Milo is a watch enthusiast of sorts. He likes Soviet style watches, something with a 24-hour face. He ordered one online, but it never was mailed off. Disappointing.
This is sort of ironic to me. I remember that there was a brisk trade in all things Soviet amongst collectors back in the 1960's, 1970's, and 1980's before Glasnost. Now you order up what you want from a website, but it seems they still are having a problem delivering the goods even though they aren't Communists any more. Proof we won the previous Great Clash of Civilizations, and that the losers are still struggling to get with the program.
Sevesteen is also a watch enthusiast, although his passion are American made watches which use mechanical movement. He has even bought a Timex watch display stand which graced store counters around 1970, so he can show off his collection in the proper soft focus glory.
Sevesteen has even perfectly articulated how technology has leveled the playing field so far as personal time pieces are concerned. In the quote below, he explains why he is fascinated with watches that were made in the 1970's.
"Go back 10 years, and watches were tiny by todays' standards. Forward 10 years, and they are mostly quartz–Superior timekeepers, but it isn't nearly as interesting when even a basic department store watch is equal (or superior) in performance to an expensive luxury brand."
I remember reading Larry Niven in the 1970's and 1980's. He did a pretty good job of predicting the future course of technology in some of his Known Space stories by having people rely on their portable phones for just about everything, at least on technologically advanced Earth. Pretty similar to the way cell phones are evolving today.
The protagonist in one short story has a surgically implanted watch. The dial is seen glowing through the skin on one wrist, a neat little detail to prove to the reader that the story was taking place in The Future.
Some people have predicted the ultimate demise of the wristwatch. I doubt that will happen, but I think it is undeniable that the sales of that once indispensable item have suffered with the growing popularity of cell phones. I think that the only way to turn the trend around is to offer a watch with limited cell phone functions built in, or to come up with some sort of snobbish gee-whiz technical application like the implanted glow watch mentioned in the previous paragraph.
(Cross posted at Hell in a Handbasket.)