In my life one lesson I learned is that there are three kinds of people:
1) those you trust
2) those you don't trust
3) and those you can trust to f*ck you over
The WSJ, which is generally a fine publication, often is tripped up by the fact that their journalists are often myopic and even when they get the story right, they often miss the overall context. From the June 6 issue, here are two articles back to back, both good articles, but quite ironically placed.
The lower article is titled "Kremlin Seeks TNK-BP Detente". British Petroleum (BP) is part of "a 50-50 venture with a group of Russian billionaires that is Russia's No. 3 oil producer." Per the article:
"People close to BP charge the Russians with trying to take effective control over the venture through pressure tactics, possibly ahead of a sale to a state-controlled company such as OAO Gazprom."
There are many ways in which a gangster-state such as Russia can force their will on a foreign company. They can use the "law" (which they control) to generate adverse rulings, they can use customs to deny entry to key executives, or they can flat out threaten the lives of the foreign executives. If they are more clever, they can change the terms of the deal in ways that make it less and less economic (i.e., pay in rubles or dollars depending on the currency board, fail to pay needed bills, bring endless tax audits, etc…).
Once BP's assets are built, on the ground, and running (with Russian personnel), BP's leverage is very limited. The Russians are savvy enough to ensure that BP won't engage in outright sabotage, so it is just a matter of time and pressure before BP sees the writing on the wall and capitulates, selling their assets for a fraction of their value to the crony-of-the-day or maybe straight to a government owned company. This is basically expropriation, and energy investments are very subject to this type of activity, especially if the local government and population has a reasonable degree of operating skill (i.e., in Russia this is a bigger risk than, say, the Congo).
Who could have seen that the Russians would "f*ck" over BP? Why, anyone who has picked up a single book on history or economics in the last century, perchance?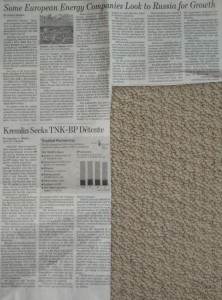 Like BP, the WSJ apparently hasn't read a history book in the last century. The article immediately above is titled "Some European Energy Companies Look to Russia for Growth".
"Several European companies are making big bets on Russia's power sector, and hoping that a wide-ranging deregulation program will help their wagers pay off. Hunting for growth outside of stagnating Western European markets, Italy's Enel SpA, Finland's Fortum Oyj and Germany's E.On AG and RWE AG have all invested hundreds of millions of Euros in the privatization of Russia's electricity sector over the past year. Russia hopes that the sales will boost investment in new generating capacity to power Russia's rapidly growing economy."
The article goes on to describe that Russia needs power and how the power will be sold into the market, and the ability of generators' to make a profit. The article fails to mention anywhere that ONCE THESE ASSETS ARE BUILT IT IS VERY LIKELY THAT THE RUSSIANS WILL CHANGE THE RULES TO ENSURE THAT THE WESTERN COMPANIES FAIL TO MAKE THE PROFITS THAT THEY PLAN ON EARNING.
Once again, not all investments in Russia are bad. If you are selling consumer or luxury goods, your risk is your inventory on hand, and you can just stop sending more. If you have a service, you can just scale back and bring back your staff. But if you are building an asset that will reside on Russian territory, and be run by Russians with local manpower, you can look at category #3 for the front of this post to determine your ultimate fate. It is the same fate that BP met, since your leverage, once built and running, is minimal.
I do find it profoundly ironic that these two articles appear, back to back on the SAME PAGE, with no one at the WSJ connecting the dots.
Cross posted at LITGM