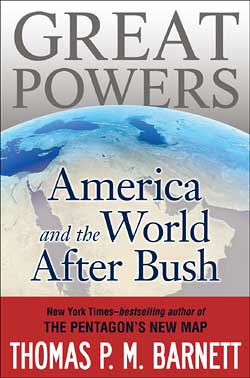 Thomas P.M. Barnett's new book Great Powers: America and the World After Bush
is coming out tomorrow. If you go to this this page, Tom has got a lot of stuff you can look at pertaining to the book, including the TOC and promotional material, including excerpts.
I had the good fortune to read the next-to-final draft of the book. I think it is easily Barnett's best book so far. He lays out his vision of the world of today and tomorrow, and what should be done about it.
I highly recommend the book. You can order it here
.
(I am in about 70% agreement with what Barnett has to say in the book. I hope to have a substantial review up at some point, where I will talk about all the main points in the book. For now, I look forward to reading it again so I can write the review.)