When my cars have needed interior work, I have gone to one place for years. Whether it is a simple replacement for a seat bolster, rubbed raw after years of sliding in and out of the driver's seat, new seat covers, a new roof headliner,  or now, a new convertible top for my 27-year-old Mercedes-Benz SL500 I have only one place.
And without exception, when I go there, I always like to take pictures of the current customer cars having work. You might see a 1930 Bentley next to a 1957 Chevy. I have always felt that the owner is a perfectionist.
So when the original top that was 27 years old was starting to look "long in the tooth", there was only one place I considered taking her. The appointment was made 2 months in advance.
They are that popular.
I mentioned the car in the feminine. Her name is Gabriella.
I like to name my cars, and it seemed like a nice name, common in Germany.
Although it isn't a German name.
Anyway, the Germans seem to really know how to make durable convertible tops. And while Daimler (I still like to call them Daimler-Benz), is known for 100s of pioneering development patents, so many now in all cars today (from crash "crumple zones" to ABS to Airbags), the one thing they seem to be a bit deficient in is making durable plastic.
It is actually a bit of a joke in various Mercedes Internet forums.
Want to disconnect an electrical connector in the engine bay? Prepare for the connector to break.
Take off that interior plastic bit to access a light bulb?
Ditto.
Although I don't know if they have improved the plastic in recent years.
Anyway, the crew was busily removing the old top and putting the new one on the frame when they noticed a small problem.
On the driver's side, there was a plastic bit, a rough triangle less than 1 cm (1/2") on each side, that was used to hold a wire under tension. And it was cracked.
Although in this case, is the fact that after 27 years a cracked plastic piece under tension a "bug" or a feature? Maybe I should withhold judgement.
But Dan, the owner, being the perfectionist, decided to put the work on hold for awhile while new cars came in. He told me that he could probably fashion a home-made piece.
Once I became aware of the problem, I asked him to allow me to search for a new part. Like Dan, I would rather the car be late – even very late, and "fixed right" rather than have a jury-rigged part.
And Gabriella, metaphorically putting her feet up on the coffee table, took up residence with 3 other long-term residents, all Jaguars in various states of disassembly. In my imagination after the shop was closed, did they all talk about the Battle of Britain?
So, I went to my friend at the parts counter of the local dealership. Brian is an ace, recently finding another plastic piece for another car – the last one in the world – at a dealer in Rhode Island. He has found other parts in basements in Slovenia (OK, a slight exaggeration but at the factory warehouse in Germany). That's where my catalytic converters came from, and I had to wait 6 months while they made more.
And this little plastic part wasn't even in their inventory. As far as the Factory was concerned, it didn't exist as a separate entity.
I then suspected that it was simply a part of the convertible frame, even though it was easily removable with 2 screws.
And if the frame were still available it would be in the thousands of dollars I am sure. Daimler is known for the amazing parts support they give even older cars. You may not like the price, but at least you can usually get it. Unless it's an older color-coded interior plastic part.
So, my next option was searching the wrecking yards. It wasn't the best solution, because even if I found one, it would still be an old plastic part from 21 years to 33 years old.
This model, of which they made about 200,000 for the world over the production run, was made from 1990 to 2002.
And I was coming up dry on that search with one exception.
A yard owner had a 1997 in stock, but he would not tear apart the frame to get this part. Which I certainly understood. Once that little part was taken, the frame and top "wasn't whole". He wanted $300 for the frame (compared with probably thousands new!) , and I envisioned tearing the frame apart to get the part, only to discover that this part too was broken.
Which as an aside, if you will allow me a short temporary detour from this story, I have been fascinated by the pricing structure at yards.
It is pure example of logical supply and demand.
However, at first glance, the pricing can be a bit surprising.
The engine in my car, known by Daimler as the M119, is near bulletproof. I have 226,000 miles on mine, and over the 7,500-mile oil changes, still uses an imperceptible amount of oil.
I once spoke with an owner of a yard specializing in SLs, and he said that he had 30 of these engines on the shelf, all available for $300.
Only there was no demand for them, so he hauled them all to the scrap yard.
If you wanted to buy a new short block at the dealer (the block minus the cylinder heads), it'd be $15,000 retail. That was some years ago.
However if you want that little interior color-coded plastic facia that covers the dome light, it'll be $700 to $1,000 "if we can find one". New, if the dealer still had them, would probably easily be under $100. But they don't have them now.
Supply and demand.
That fascia is always breaking. Then you could pay $1,000 for an old one and break the thing trying to push the clips into the housing.
So anyway, not wanting to roll the dice and get that used convertible frame, an idea popped into my head.
I'd heard about "3-D Printing", but knew nothing about it.
So I went to a little shop, showing the broken part. I knew back in the latter 80s, some unnamed engineer made the specifications for that little part that would be included on the convertible frame.
I knew that there would be some tension on it, but unlike that engineer, didn't know how much.
The shop owner, to his credit, said that he couldn't do that job as it would require a special tough plastic known as "nylon 12". Which required special equipment. That's when I learned that not all 3-D print shops are equal.
He knew of a shop in Fresno, CA, 180 miles away that did industrial-sized jobs so it was off to Fresno with the old part the next morning. I didn't want to risk sending it in the mail.
And they do industrial-level jobs, having among their clients Google and Tesla.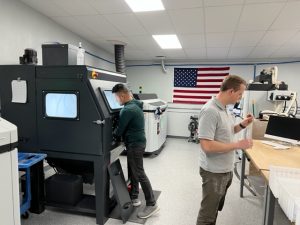 I gave one the partners my little part, and he chuckled, saying they usually make bigger parts.
I came back yesterday to retrieve the new part, and was surprised at the accuracy they had. Cory, one of the partners, even compared the old part and new part with a micrometer, insuring they matched down the smallest fraction of a millimeter. And whatever they did it was more than just using the special plastic – but a multi-step process. To get that kind of accuracy, the job starts with what Cory called digital mapping. Every facet of the original piece is digitally converted to a file, or files, that the computer translates to the new copy.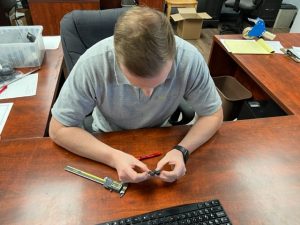 I asked him if this new plastic was as tough as the original plastic.
He asked how old the car was and upon hearing the age and knowing the state of plastic design then, said that it was probably tougher.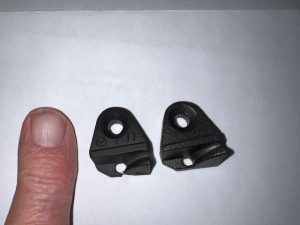 So I paid $275 for a part that undoubtedly cost Daimler maybe a Pfennig (if that) – this was before the Euro. But it is tougher than the original.
I was glad to pay it.
And 3-D printing is undoubtedly the future for that fascia piece (there are some sold on eBay now), although matching the color of the interior and offering the dozens of available colors over the years, will be the biggest challenge.
I believe this is something that will only grow and widen in applications in the future.
It is a fascinating technology.
---
02-23-23 – I picked up the car last night and the top looks perfect. Dan said that he used the fabricated part and it fit fine.