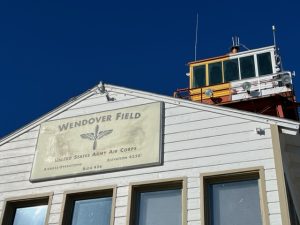 I have always enjoyed seeing places of historical importance, with their evidence of importance hidden in plain sight. Virginia City, Nevada is such a place. To most of the visitors, it is simply an old western town whose shops now sell ice cream and T Shirts.
For those who know the history, it's where Samuel Clemens became Mark Twain. It's a place that produced so much silver that it built San Francisco, and was the beginning of a few major corporations today.
The Wendover Airfield is another such place. My curiosity about it was built over some years. On a past cross country trip of some years ago, I stopped there and saw dozens of old wooden buildings whose condition reminded me of the Bodie State Historic Park, which is kept in "arrested decay".  And there was a huge hanger just to the east of the main facility. It looked a bit different from a typical hanger, as it had offices or workshops all along the sides.
Hidden in plain sight.

At its height, it was a small city with nearly 700 buildings dedicated to training bomber crews, with 100 bombers in the air at any given time.
Last November, I spent a bit more time there, going into what was the officer's club, now a museum. I learned from someone there that they trained most of the heavy bomber crews from WW2. I remembered an old movie from the 50s, Above and Beyond, telling the story of Paul Tibbets and the 509th Composite Group and their time at Wendover.
Wendover is probably best known for the 509th and their preparation for dropping the atomic bombs on Hiroshima and Nagasaki. But they were also a major training center for heavy bomber crews, the B-17, B-29 and B-24.
I asked someone at the museum how many crews were trained here and was told "all of the B-17 crews, all of the B-29 crews, and some of the B-24 crews".
I learned later that B-17 crews could have been trained elsewhere but I think it is safe to say this was a main training and staging base.
This is where each bomber crew were brought together and met for the first time. They all had their individual primary training and then came here for advanced training in their various roles – bombardier, gunnery, and piloting. It is here they would learn to work as a team. One crewman in an interview said that they were more like a family, depending on each other.
None other than General Douglas MacArthur said that Wendover trained the best gunners.
I learned at the Museum last November that on April 22, they would offer a guided tour of the base. I signed up for it and was looking forward to it for months. It was worth the 550-mile drive from home!
Wendover Airbase  resides right on the Nevada-Utah border, in Utah. It is literally 15 miles or so to the entrance of the Bonneville Speedway on the Salt Flats.
I was a bit concerned about when to meet (10:00) because Nevada is on Pacific time and Utah on Mountain time. Then someone told me that the whole town uses Mountain time. On the Nevada side reside some large casinos and they are of course completely gone a few hundred yards away on the Utah side. One of them, the Montego Bay, has the parking lot in Utah.
The property tax calculation must be interesting.
I can imagine what Wendover was like 80 years ago, minus the casinos. It is in a desolate area on the high desert, with Salt Lake City about 120 miles east and Elko is about 100 miles to the west.
I was told that the Army picked Wendover because it was far enough inland they didn't have to worry about a Japanese attack, with still easy access to the West Coast. Right after Pearl Harbor, the entire West Coast was jittery about an expected attack.
The tour started promptly at 10:00, led by 3 docents. In 1970, the government turned the base over to the city of Wendover.  In 1975, it was listed in the National Register of Historic Places. Today, the Historic Wendover Airfield (HWA) Foundation is dedicated to restoring and preserving the critical buildings. They can't save it all, as the original airbase was almost 700 buildings, but their list of accomplishments, including the Enola Gay Hanger, has been impressive. Along the way in the mini bus while passing a huge empty field, one of the docents was saying that this field used to have dozens of enlisted barracks. Even today you will see many in a very dilapidated condition, after 80 summers and winters attacking the bare wood. They were originally built not with durability in mind, but speed, with tar paper roofs.
When the Wendover Airbase was formed, the government included 1.8 million acres. Some of that is still used today by the US Air Force as a test range. During Wendover's time, the area for practice bombing run was 45 miles wide and 85 miles long. It had 4 active runways. Today it is a sleepy general aviation airport, with the 2 used runways still about 10,000 feet.
The HWA Foundation is working smartly, leasing hanger space for current aircraft. There were 7 hangers, including the Enola Gay hanger, of which 6 survive. You will see many with aircraft inside generating rental fees. I had to smile while in the Enola Gay hanger, seeing among its tenants a Grumman Albatross and a Cessna 172. This hanger was designed to accommodate 2 B-29s, nose to nose, and to see a little Cessna inside made me think of Jonah and the whale.
With this introduction, let me give you a virtual tour.
We started where we rendezvoused, at the former Officer's Club, now restored and serving as the museum. Inside was a replica of the first atomic bomb, "Little Boy". On it were the autographs of all those who were on the Enola Gay for that fateful mission, including mission commander Paul Tibbets.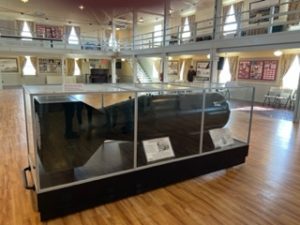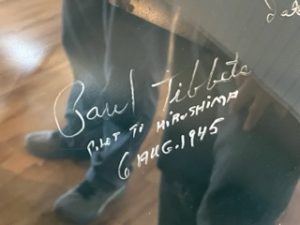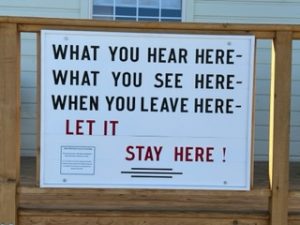 I had heard that during the Manhattan Project, the Boeing Company made an "atomic version" of the B-29 called a Silverplate. Among the differences were, instead of 4 bomb bay doors, one 30' bomb bay door.
Knowing that a lot of work was still done at Wendover modifying these B-29s (Enola Gay and Bockscar among I am sure others), what exactly was done at Wendover to modify these Silverplates? The answer surprised me.
While the actual bomb was developed at Los Alamos, New Mexico and tested at the Trinity site, development of the actual bomb casing – that which contained the device and which resided in the bomb bay, was developed at Wendover, under Project Alberta. The Trinity atomic device, which they called "The Gadget," was spherical. Specifically, I do not know whether the actual development was done on base, but it was assembled, tested, and modified at Wendover. Because of the extreme security, subcontractors might send their parts to a 3rd location, where they would be forwarded to Wendover. Subcontractors never knew the ultimate destination of their parts.
The bomb bay of the Silverplate B-29s had to be modified to accommodate both Little Boy (Hiroshima) and Fat Man (Nagasaki), which were 2 very different casings.
Since the bombs weighed around 10,000 lbs, for the initial testing the casings were filled with concrete. Later they were filled with conventional explosives. Since they were designed to explode at 1800 feet, a radar altimeter was used in the bomb which also had to be tested. The practice atomic bombs were called pumpkins. Because we had never bombed at 30,000 feet, we had to learn new techniques.
Later in the tour, we were shown the loading pit. To the untrained eye, they were simply a concrete hole. But they explained how it was used. First a truck with a crane would deliver the bomb. The crane would lower the bomb onto a hydraulic cradle, which would then lower the bomb into the pit.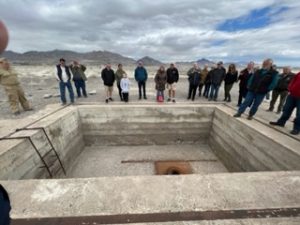 The docent told us that with the 10,000 lb bomb it was quickly discovered that it would raise the front wheels of the truck while lowering, so a very low-tech solution was used – having 4 airmen sit on the front bumper as the bomb was being lowered!
Once the bomb was in the cradle and lowered into the pit, the B-29 would taxi over the pit where the hydraulic ram would raise the bomb into the bomb bay.
A similar pit is on Tinian Island.
From the museum, our first stop was at one of the hangers, specifically hanger number 2. This was where maintenance would be done on the bombers, such as an engine change. They were designed to hold a plane as large as a B-24, with a 5' clearance on each side. The 1st 6 hangers were all 120' wide.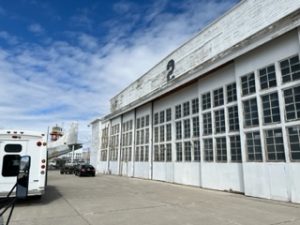 This hanger had as its tenant a company that had T-33 jets. The docent then had us look towards the ceiling for some more "hidden in plain sight" data – the trusses holding the roof were not steel, which was rationed and in short supply in WW2, but wood. He explained the construction process they used, which I have forgotten. But the wooden trusses, or beams, are still as strong as ever.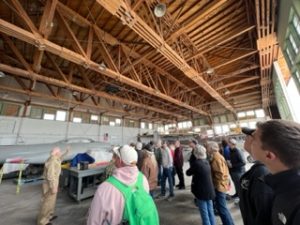 From hanger #2, we went to a restored barracks for enlisted men. There had to be 100s of these at one time, and many weather-beaten remains can still be seen. They were assembled with speed in mind, and not durability. There were 3 pot-bellied heaters down the center section, and bunk assignment was by rank, the higher the rank the closer to the stoves.  You could see some of the boards were not weather tight, with daylight showing and I can imagine on the cold winters, which got down to zero, in those barracks at night. Also, the latrine was a couple of hundred yards outside!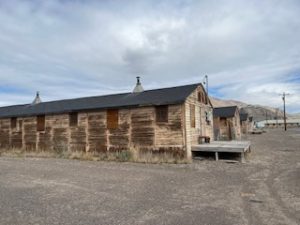 I could imagine soldiers waking up in the middle of a cold windy night wondering if they really wanted to walk down to the latrine in their skivvies!  With no place to really go on the little time they had off, I can imagine what these soldiers thought of Wendover. A docent laughed and told me that "one of them wrote a poem about it!" So after 80 years, Pfc Lavaun Manning has his poem on the Net.
Of all the bunks in that restored barracks, one was left without blankets to signify the death of that soldier. Can you imagine the feeling of friends on station to come back and to see 7 or 8 now-empty bunks from a bomber that failed to return? I will talk more about this later, but in my reading of the 8th Army Airforce in East Anglia, a wonderful book recommended  contained short reminisces of British and Americans during that time. One American serviceman remembered being with his crew just arriving in England and assigned to a Quonset hut but discovering that it was unlivable. All of the uniforms and personal effects of previous crewmen who paid the ultimate sacrifice were still piled everywhere in the space. They borrowed a wheel chair and removed all their personal effects – and foot lockers – of those men. And it took them 3 days.
It was pretty sobering.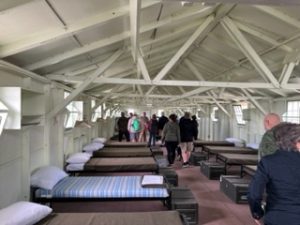 From there, we moved a bit further to see what was the medical center. One building was the morgue – there were 180 reported deaths at Wendover (I am surprised there weren't more) and a visit to the nurses' quarters. The nurses probably had the best accommodations on the base.
Then we moved to the location where supplies were brought in by train. One could still see the rusty railroad tracks, although the building was long gone. To give you an idea of the immense size of this base, a docent read a report of one day, saying that over 800 lbs of meat was rejected.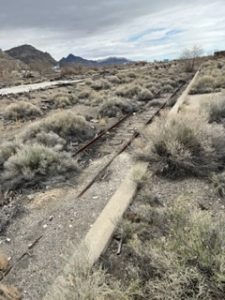 From there was a short trip to the mess hall – probably to be more accurate a mess hall, with the food lockers still there after 80 years.
Next was a trip to one of the ammunition bunkers – and along the way we saw what a docent called a "Gun Butt" – a berm that was used to sight in the 8 .50 caliber machine guns of a P-47 Thunderbolt.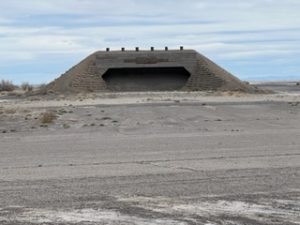 The bunkers were a few hundred yards apart – a lesson learned from a 1926 explosion at a US Navy facility in New Jersey. There, the equivalent of 600,000 tons of TNT exploded in a chain reaction.
The incident at the Picatinny Arsenal prompted the United States Government to get serious about explosives safety. Shortly after the explosion, Congress created the Department of Defense Explosives Safety Board, a board that exists to "provide oversight of the development, manufacture, testing, maintenance, demilitarization, handling, transportation and storage of explosives" within the military.
Each bunker had a "blast wall" in the front to blunt any explosion that would occur, and they were separated (by my estimation) at least 200 yards apart.
From here was a short trip to the atomic bomb loading pit, that I described earlier.
The Enola Gay Hanger (as I call it), #7, was huge, as you might expect. They had done a wonderful job of restoration, including fixing the roof. If I understood the docent correctly, this was just phase one, with more work to do. The main repairs that prevented more deterioration have been done. This was built in a matter of months. Along the sides were workshops and offices. Col Paul Tibbets' office was upstairs and towards the front.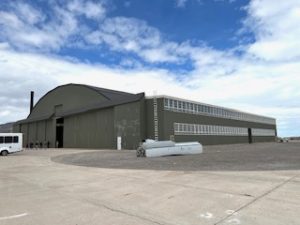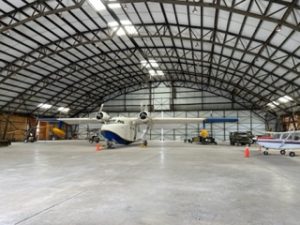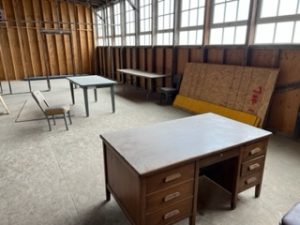 We then toured a building that was used to adjust and repair the Norden Bombsight. This was held under strict secrecy, although the docent was saying that while it was claimed that it could "put a bomb into a pickle barrel", the docent added that was true, provided that the pickle barrel was ¼ mile wide!
Evidence of the value they had for these sights was seeing the 5 locked vaults that were used to store them.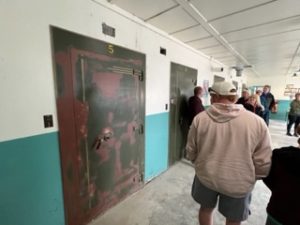 Towards the end of the tour, we went into a building that was used for a bombardier classroom, but after the war converted to the base fire house. There was a 1942 Army firetruck on display, which was Army olive drab. They said that they learned a lesson from Pearl Harbor, when the Japanese targeted the red fire trucks. What I thought interesting about this stop was learning that many airport firefighting techniques, including foaming the runway, originated in WW2.
A few final thoughts.
If you cross the San Francisco Golden Gate Bridge, once you get to the Marin County side there is a parking lot for the tourists to park and even walk across the bridge, if that is their desire. It is a beautiful photographic opportunity.
If you are observant, you will see a monument dedicated to the Sailors and Marines who passed under that bridge and had a last glimpse of their country. And for many it was a last glimpse, for they never returned.
I was moved by that monument, and the thought came to me that for many airmen their time at Wendover was their last experience in the US. I have been reading a bit on the 8th AAF, and followed one crewman's story of leaving the US in a new B-17 for their destination of East Anglia. While they thought that the new plane would be theirs (and many had them already named with their own nose art) they would learn upon arrival that being the "new guys" they would be issued an old battle-scarred plane with a more experienced crew getting the new plane.
There over Europe they would face horrors they couldn't have imagined. More airman in the 8th AAF alone were killed over Europe than all of the Marines in the South Pacific. I've heard different numbers used, and they probably changed over the period of 1942-1945 (when "The Mighty Eighth" would amass an armada of 1000 planes for attacks on Germany), but at least early on one's odds were 1:3 of being killed or wounded before the required 25 missions were completed. That requirement was raised to 30 and finally 35.
In a wonderful DvD I reviewed, one veteran, in describing a typical mission, said that with  every mission start he had a feeling akin to being led to a wall ready to be shot. Would this be the day?
There were many ways to die in a B-17, B-24 or B-29. The most common, I believe, was flak from the enemy. And in a formation, you had to maintain your course or you could create more danger to the other planes. So the flak gunners could adjust their aim. Of course, there were fighter attacks, mid air collisions while forming up (which, with a lot of planes, would be very intricate with assigned altitudes and positions). If you were out of position, or the plane above you was out of position, you could even die from a bomb dropped from above.
You could die at the end of a runway with a bomb laden plane and an engine going out. Or you could die coming back with a badly shot up plane that just couldn't make it back to the airbase.
And yet they went out, day after day.
Some have said that the use of atomic bombs on Japan was wrong, even immoral. I am not one of them.
This was an illuminating few days I spent driving and touring the base. I felt as though I was stepping back into history.
I'd like to thank the docents of the HWA Foundation for such an informative and well-prepared tour.
If you would like to help with their restoration, here is their website.
Cross Posted at The Lexicans