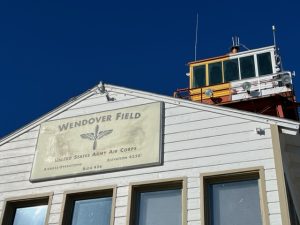 I have always enjoyed seeing places of historical importance, with their evidence of importance hidden in plain sight. Virginia City, Nevada is such a place. To most of the visitors, it is simply an old western town whose shops now sell ice cream and T Shirts.
For those who know the history, it's where Samuel Clemens became Mark Twain. It's a place that produced so much silver that it built San Francisco, and was the beginning of a few major corporations today.
The Wendover Airfield is another such place. My curiosity about it was built over some years. On a past cross country trip of some years ago, I stopped there and saw dozens of old wooden buildings whose condition reminded me of the Bodie State Historic Park, which is kept in "arrested decay".  And there was a huge hanger just to the east of the main facility. It looked a bit different from a typical hanger, as it had offices or workshops all along the sides.
Hidden in plain sight.