Bad news, Obama's Chairman of the Federal Energy Regulatory Commission, Jon Wellinghoff, is bad at math. 
No new nuclear or coal plants may ever be needed in the United States, the chairman of the Federal Energy Regulatory Commission said today.
 
"We may not need any, ever," Jon Wellinghoff told reporters at a U.S. Energy Association forum.
 
Wellinghoff said renewables like wind, solar and biomass will provide enough energy to meet baseload capacity and future energy demands. Nuclear and coal plants are too expensive, he added.
Okay, let's look at the numbers, shall we?
[Update (2009-4-24 4;30pm): When I originally wrote this I accidentally dropped the kilowatt hour from the measurements. So, in the below the U.S. consumes 4.1 trillion kilowatt hours or 4.1 Tkwh. I assume that Wellinghoff below is talking about a maximum wind capacity of 1.0 billion kilowatt hours or 1.0 Tkwh. Corrected typos in red. ]
There's enough renewable energy to meet energy demand, Wellinghoff said. "There's 500 to 700 gigawatts of developable wind throughout the Midwest, all the way to Texas. There's probably another 200 to 300 gigawatts in Montana and Wyoming that can go West."
Wow, that's a thousand billion kilowatt hours or 1.0 trillion kilowatt hours of power just waiting to be captured! Obviously, we can depend on wind power right?
[ Some commenters have suggested that Wellinghof was talking about name plate capacity which is just a summation of the theoretical output of generators. Most people won't use name plate capacity to estimate windpower potential because, well, the wind doesn't blow at the same velocity all the time. I am assuming h meant the number of kilowatt hours that windpower could produce.]
Well, no. Right now, the U.S. consumes roughly 4.1 trillion kilowatt hours of electricity and heat from electricity generation. That means that at most wind power will produce a little under 1/4 of our current power needs.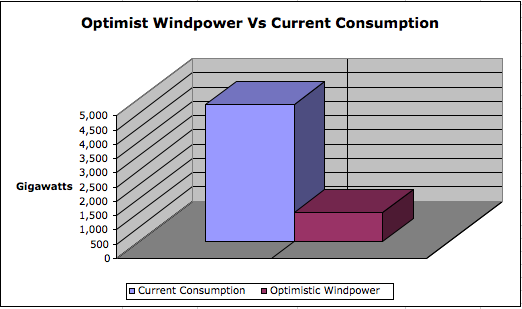 But it gets better. The U.S. gets 19.4% of its power from nuclear power. That comes to 790 Gkwh. These nuclear power plants will start going offline in 2020. That means over 75% of the most optimistic wind power projections will be eaten up just replacing nuclear plants. Coal plants produce 1.99 Tkwh. 
So, if we don't build replacement nukes and we start phasing out coal plants we will be 1.7 Tkwh in the hole based just on current consumption. Future consumption is estimated to be anywhere from 5-6 Tkwh  by 2030. If we get a breakthrough that makes electric cars practical, we will see almost a doubling of electricity use by 2030.
Oh, what is the total contribution of all alternative electricity sources? Currently, it's 2.5% of 4.1 Tkwh, so that comes to 102 Gkwh. In order to just replace nuclear and coal plants in use today we have to increase alternative generation by a factor of 27. We would have to accomplish most of that within twenty to thirty years!
Nothing, absolutely nothing about Obama and the American Left today scares me as much as their delusional energy policy. A modern economy is basically just a mechanism for using electricity to turn dirt into useful things. No electricity, no economy. As I wrote before, the great danger that Obama's delusions pose is that it's easy for Obama to cripple coal the, gas and nuclear electricity generation we have now but very difficult, perhaps impossible, to create practical alternative energy sources that meet all the parameters that Obama wants. Obama can wreck our energy grid with the stroke of a pen, and the effects will only become apparent decades in the future. 
We are currently in the grip of a mass delusion about alternative energy, just as we were in the grip of a mass delusion during the '73-'83 energy crisis. The majority of Americans seem to be buying the innumeric argument that wind and solar can completely replace fossil and nuclear power and can provide for future increases in energy consumption. Obama will find it easy to muster support for crippling the energy grid.
China and other countries will invest in serious, dense, reliable energy such as coal and nuclear while we spend trillions on technology that leaves us starved for energy. 
We are so boned. 
[Update: The World is Powering Up While We are Powering Down ]