Posted by Jay Manifold on 18th June 2019 (All posts by Jay Manifold)
Arnade, Chris. Dignity: Seeking Respect in Back Row America. Penguin Publishing Group, 2019.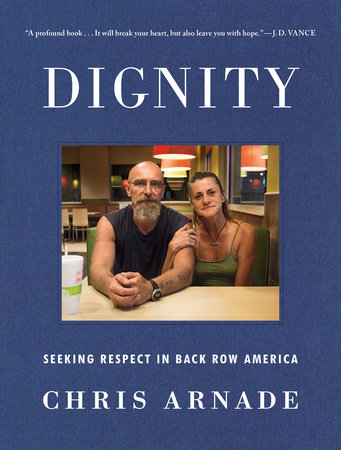 Chris Arnade certainly seems to have been called, and may well have been chosen, to help mitigate one of the great divisions of our time. Dignity complements, among others, Charles Murray's Coming Apart with interviews and photos from what Murray would call "Fishtown," or rather its extreme margin, whose inhabitants are simultaneously transient and rooted, strategizing to survive in ways often incomprehensible to the more cognitively gifted and emotionally stable. Learning to extend compassion and respect rather than mere pity (in its more negative variant), glib political "solutions," and outright contempt is a challenge far too few Americans are willing to undertake. Matthew 22:14 seems unnervingly relevant in this context, and while the church as it is depicted among the people Dignity portrays is an overwhelmingly positive influence, more "front row" believers might take a moment to consider just how much better than the vast majority of us Arnade, a secular liberal, has done at reaching out to desperate communities. My advice to them is to buy and read this book, pray over it, maybe lend it out to others for discussion, and—without reinventing the wheel—do the Tocquevillian thing and organize/volunteer, with an eye to Luke 15. Because if the parables in that chapter aren't about "back row" people, they don't mean a damned thing.
Posted in Big Government, Biography, Book Notes, Christianity, Civil Society, Current Events, Education, Human Behavior, Libertarianism, Personal Narrative, Political Philosophy, Politics, Religion, Society, Trump, USA | 31 Comments »