Okay, this is my first post since I joined up as a member of Chicago Boyz, and I'm delighted to be here — thanks to Zen and Lex for the introduction and invitation!
I've had a couple of guest-posts here already, one for the Afghanistan 2050 roundtable and one on the topic of religion and violence — a perennial interest of mine — and I'd like to take the opportunity now to address another of my passions.
*
I'm deeply interested in games and play.
It's my contention that play is the mode in which children learn and masters create and express themselves. And with the coming of modeling, simulations and scenario-planning I think we're deep in a movement away from the binary opposition of theory and practice and into a zone where play occupies an intermediary position between the two — with simulation and modeling giving us the opportunity to practice our theories in a "safe" zone which allows us to learn positive lessons from both positive and negative decisions, without suffering from the negative consequences of poor decision-making in the "real world".
I try to keep tabs on games of war — and peace — because of this, and would like to offer you one of my "DoubleQuotes" based on a couple of things I read recently. The idea behind these DoubleQuotes is to drop two quotes into the mind simultaneously, like two pebbles dropped into a pond, and see how the ripples intersect and interact.
Here's today's example: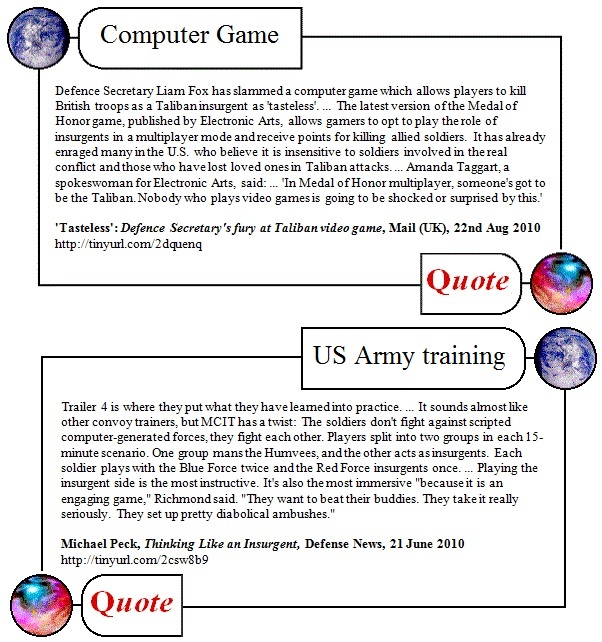 I'm not arguing for or against anything here, just inviting you to consider the implications of two related but different news items: one one of them, the US army is thinking of banning a game because it allows players to play an insurgent role, in the other the army is using insurgent role-playing as part of training.
Josh at Al-Sahwa has an interesting recent post on the same conundrum, and links to this CNN video, which shows some of the training in action.
What do you think? It's your thoughts I'd like to get at here, my own contribution is mostly intended as an opening salvo to get a conversation going.
*
So: should Paul van Riper have been allowed to play Red in a game like Millennium Challenge 2002?
I know, my own bias is beginning to show … I favor modeling, scenario-planning and gaming with as much intelligence and creativity as possible.