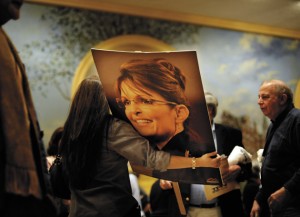 This post, entitled Tea Party Has Elites on the Run, by Tony Blankley writing in Rasmussen Reports, is very much worth reading. It analyzes the Tea Party in light of the "remarkably prescient book, Christopher Lasch's The Revolt of the Elites and the Betrayal of Democracy
.
Lasch described the emergence of elites who "…control the international flow of money and information, preside over philanthropic foundations and institutions of higher learning, manage the instruments of cultural production and thus set the terms of public debate." These elites would undermine American democracy in order to fulfill their insatiable desire for wealth and power and to perpetuate their social and political advantages. Middle-class values, Lasch warned, would be hollowed out by a value-neutral educational system preaching multiculturalism. Their replacement would be narcissistic values based on self-gratification and worshipful of fame and celebrity as the ultimate values in a world devoid of deeper meaning.
This very similar to the argument of Angelo Codevilla, both book form
and article form.
Blankley goes on:
The tea party movement will assert middle-class values, economic nationalism, patriotism and other concepts derided by post-modern elitists. The movement's central tenets — small government, decentralization of power and end to profligate spending — are precisely what Lasch prescribed to restore American democracy.
RTWT.
BTW: This article about the Tea Party, by Jonathan Raban, from the usually Lefty New York Review of Books, from last February, is remarkable fair. Worth reading.
(I should mention that the NYRB's review essays on historical subjects, including military history, are often very good. For example, this article about the French Foreign Legion by Max Hastings is very good. He warns "… only the foolish seek to romanticize this bleak, cruel fighting machine, loyal only to its own. " But the foolish, myself included, continue to do so. And while we are at it here is Max Hastings' list of the Ten Best Books About War. I've read five of them.)
[Photo credit: The picture above is from the Raban article in the NYRB.]