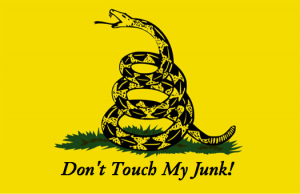 Copyright © 2010 by Shannon Love and hereby placed in the public domain.
Inspired by this Charles Krauthammer essay [h/t Instapundit]:
Not quite the 18th-century elegance of "Don't Tread on Me," but the age of Twitter has a different cadence from the age of the musket. What the modern battle cry lacks in archaic charm, it makes up for in full-body syllabic punch.

Don't touch my junk is the anthem of the modern man, the Tea Party patriot, the late-life libertarian, the midterm election voter.
Political correctness has never been about helping the downtrodden. It has been about turning people's compassion and courtesy into a weapon against them. Political correctness has always been the bully's cudgel. At long last, it has been pushed to its breaking point of absurdity.
As an aside, it is interesting what comes up when you google "Don't Tread On Me". I thought about using that one but "don't touch my junk" wouldn't have felt very sincere in that case.