Posted by David Foster on 7th June 2018 (All posts by David Foster)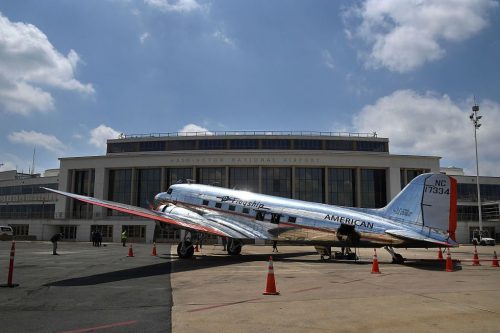 June 7, 1936 marked the first delivery of one of the most important airplane types ever developed:  the Douglas DC-3, which has been called "the Model T of aviation."
The story of the DC-3 begain with a very long telephone conversation between the heads of American Airlines and Douglas Aircraft.   AA had been conducting coast-to-coast overnight sleeper service using Curtiss Condor II biplanes, and CR Smith of American wanted a more advanced aircraft for this service. Douglas Aircraft was then fully occupied with production of DC-2s (which were too small for sleeper berths) and Donald Douglas was reluctant to undertake the project.  He was persuaded of the merits of the project over the course of a 2-hour phone call, the bill for which came to something like $5400 in today's money.
The DC-3 could accommodate 14-16 passengers with berths–see this promotional film–or, alternatively, 21 passengers in a seating-only configuration, which was the more common arrangement.  The type quickly became a huge success.  According to Delta, by 1940 the DC-3 carried 80% of the world's airline traffic. Thousands of DC-3s (under the military designation C-47) were built in support of the Allied effort in WWII, and after the war a high proportion of these found their way into passenger and freight service.
Perhaps the best way of discussing the characteristics of the DC-3 is in the context of a walkaround and flight.  (I've had two opportunities to fly DC-3s with instructors, the first in 2006 and the most recent in 2017)
The most noticeable thing about a DC-3 on the ground is its nose-high attitude: this is a tailwheel airplane, whereas most planes today have a nosewheel.  The tailwheel is better for operations on grass and other unpaved strips, but it does make ground handling and landings a little more tricky.
The airplane has two engines…a few years prior to its introduction, three-engine airplanes had been the thing for passenger traffic, the theory being that the loss of one engine in that case would represent only a 33% loss in total power rather than 50%.  Eliminating the third engine (in the nose) reduced noise and vibration, but required that there be enough reserve power for single-engine flight to be feasible.
The wings have a noticeable sweepback.  This has nothing whatsoever to do with supersonic or near-supersonic aerodynamics, but was done for reasons of balance.  Wing construction used a stressed-skin approach with a cellular, 'honeycomb' internal structure.
Entering via the rear passenger door, you walk up a fairly steep inclination to get to either a passenger seat or to the cockpit.  (Douglas devoted considerable attention to ensuring that the passenger seats were comfortable, and also to soundproofing the airplane as much as possible.) Pilot and copilot seats are also reasonably comfortable . Electrical switches are on the overhead panel, engine controls in the center:  prop, throttle, and mixture.
Posted in Aviation, History, Russia, Transportation, War and Peace | 18 Comments »