What do you get when you mix these three things?



The Heckler & Koch G36 Assault Rifle (currently fielded by the German and Spanish armies)


The M41-A Pulse Rifle (used by Colonial Marines in the movie Aliens)


The Lazer Tag StarLyte Pro Toy (used by me in my 80's childhood)
The answer is the Army's new XM-8 Carbine / Assualt Rifle.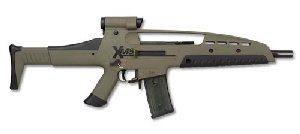 StrategyPage says the new rifle is getting good reviews. It currently fires NATO standard 5.56mm rounds, but may be rechambered for the new 6.8mm ammo the Army is considering.
Now the M-16 / M-4 family looks cool and all, but the XM-8 looks like the guns we were promised for "The Future", along with all the flying cars, despotic coporate police states, and zero-G brothels. The rest of civilization may be failing us, but at least the military is keeping up its end of things. If only they could get those orbital weapons platforms working, we'd be all set…