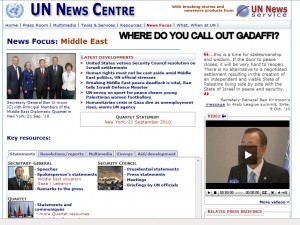 In the Al Jazeera live blog on Libya I looked at the comments and one of the commentors mentioned that we should bring in the UN to stop the carnage of Gadaffi using automatic weapons and rockets on his own people as well as employing out-of-country mercenaries to do his dirty work.
So I went over to the UN web site for the middle east and I can see that they are up on the situation; what is on their "breaking news" section except headlines chiding Israel and talking about Gaza and Palestine, a situation that they have done nothing to solve over the last 60+ years.
Why don't they call out Gaddafi for his murderous activity? Where are the frenzied resolutions? Where is the outrage? Nowhere, I guess, since of course Gaddafi is one of the types of anti-Western media-friendly yet murderous and thug-like regimes that they adore.
I guess all the resolutions and outrage only apply to Israel; they just sweep the dirty news about their favorites under the rug.