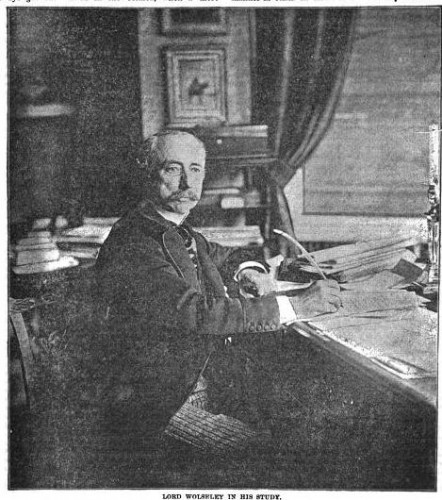 Lord Wolseley was the most distinguished British soldier of the Victorian era. My favorite book from last year was his two volume memoir. A third volume, full of further astonishing adventures was unfortunately never written. (I do wonder if there are any surviving notes or drafts, though? HIs papers are apparently housed at Hove, near Brighton. I wonder if you just asked around on the street in Hove if someone would direct you.)
Lord Wolseley gave an interview which led to this article in the Review of Reviews for September, 1890.
As I mentioned previously, his resume beggars belief:
1852. Second Burmese War—Ensign.
1854. Siege of Sebastopol—Lieut., Captain.
1857. Ordered to China. Wrecked near Singapore.
1857. India. Suppression of Mutiny—Lieut.-Col., V.C.
1860. Chinese War. Mission to Nankin.
1861. Canada. First Assistant, then Deputy, Quartermaster General.
1870. Red River Expedition—K.C.M.G.
1871. Assistant-Adjutant-General at War Office.
1873-4. Ashantee War—Major-General, K.C.B.
1874. Inspector-General Auxiliary Forces.
1875. Governor of Natal.
1878. Governor of Cyprus.
1879. Zulu War—Commander-in-Chief and High Commissioner, South Africa.
1882. Egyptian Campaign. Tel-el-Kebir. Peerage.
1884. The War in the Soudan.
1885. Adjutant-General at War Office.
The article fails to mention him sneaking into the South during the Civil War and meeting Robert E. Lee. It also cannot have known that he would be promoted to Field Marshall in 1894, and that he would finally ascend to the very top, being named Commander in Chief of the Forces, in 1895.
What is remarkable in the interview is the continuity of the Anglospheric defense considerations across twelve decades.
The English-speaking global hegemon, whether it wears a Red coat, a Khaki tunic, or Camo fatigues, is worried about the same things, once the Germans and the Russians are out of the way: troublesome Muslim "fanatics" and the prospect of a Chinese Leviathan taking over the East and challenging the Anglosphere for Dominion of the World.
About "fanaticism" he had this to say:
Speaking of the fighting value of fanaticism, Lord Wolseley said that in the Mutiny he had fought hand-tohand with fanatics, who are of all people the most dangerous to fight with. Fanatics, meaning men who are nerved up by religious enthusiasm to such a pitch that they have lost all care for their own lives, and who go straight for you, are the most formidable foes in the world. Twenty thousand fanatics such as those whom the Mahdi hurled against the English troops in the Soudan were far more to be dreaded than three times that number of French or German troops. No Continental troops would have ever faced the fire which almost failed to check the onward rush of the Mahdists. "Give me," said Lord Wolseley, "20,000 fanatics, and I am not by any means sure that I could not take them through the Continent, regardless of any numbers that might be put upon the field against them. It is the same with English gentlemen. Give me 20,000 English gentlemen, and I will march them to the other end of Europe and back again." "Of course," he said, laughing, "this is nonsense, if you take it too literally; but you have no conception of the terror which 20,000 resolute men, who always go forward and never turn back, would have in the hearts of armies many times their number. The sentiment of honour in an English gentleman is as good a fighting force as religious fanaticism. There is a great deal of hollowness about modern armies. The real soul of the army consists of comparatively few."
(Emphasis added) Note that fighting Muslim fanatics is a challenge, and a difficulty, but not insurmountable. Further, Wolseley sees the fanaticism of the Mahdist, or what we would now call a Jihadi, as being matched by the moral character of his own troops. The distinction he makes with European armies, which is not expressly stated, is between the English who are all volunteers and the Continental armies composed of draftees. I suspect he would see the American All Volunteer Force as having a similar sentiment of "honour" though in the American variant the word chosen may be professionalism.
He had this to say about the rise of China, where he had served in 1860.
"The Chinese," he said, "are the coming nation. The Chinese will, I think, overrun the world. The Battle of Armageddon will take place between the Chinese and the English-speaking races. There will be, I assume, another war between France and Germany, and it will be about the bloodiest war or series of wars which we have seen in Europe. But, some day, a great General, or Lawgiver, will arise in China, and the Chinese, who have been motionless for three centuries, will begin to progress. They will take to the profession of arms, and then they will hurl themselves upon the Russian Empire. Before the Chinese armies—as they possess every military virtue, are stolidly indifferent to death, and capable of inexhaustible endurance—the Russians will go down. Then the Chinese armies will march westward. They will overrun India, sweeping us into the sea. Asia will belong to them, and then, at last, English, Americans, Australians, will have to rally for a last desperate conflict. So certain do I regard, this that I think one fixed point of our policy should be to strain every nerve and make every sacrifice to keep on good terms with China. China is the Coming Power. These people—intelligent, active, ingenious; so industrious that at twelve o'clock at night you can hear the hammer of the smith in the forge—have for the last 300 years been ruled by the simple method of having all the more active, capable, and progressive heads shorn off by their Tartar rulers; that is a simple, literal fact. … But these rude Tartars will not always be able to control the nation. Another Moses might change it, or a Mohammed, or a Napoleon.
He was right about another round of war between France and Germany, but seems not to have foreseen that Britain would participate in it. The notion of a Pan-Anglospheric alliance against China is not completely alien to current thinking. However, Wolseley seems to want to avoid conflict and remain on good terms with China, whose ascent he seems to see as inevitable.
His assessment of the United States is worth noting:
In America you have a pure democracy, and a pure democracy is capable of doing much more in the direction of strong measures and of war than a mixed system such as ours. When democracy is thoroughly established in England the chief security against war will have disappeared. It is democracies that make wars, oligarchies that are afraid of them, especially an oligarchy like ours, which is timid and hampered by the party system. Our system, by dividing the nation into two halves, each of which opposes on principle what the other one proposes, paralyses our strength when a Minister is tempted to go to war. If our people were as unanimous in cases of affront as the United States we should go to war many times oftener than we do. In America, questions of foreign policy, involving the maintenance of the honour of the flag or the rights of American citizens, are outside the area of party dispute. The whole nation acts as one man. Hence, Russia, Germany, and France habitually show the United States a deference which they never show England.
So much for the idea of a Democratic Peace. His observation that affronts to America's national dignity cause the whole country to "act as one man" seem to have been borne out on several occasions, including the responses to Pearl Harbor and 9/11.
He also correctly foresaw the Anglo-American alliance that would shape the 20th Century:
He ridiculed the idea that America would be an enemy of ours, and asserted, with a tone of deep conviction, that if ever the old country were, in a time of difficulty, to appeal to our American kinsfolk and to cry across the Atlantic for help, the American nation would respond enthusiastically. The only weakness, said he, is the Irish element in the States.
He was almost right. The Irish were one element, as well as a large, indigenous isolationist and pacifist element, and the presence of many Germans. But, eventually, the USA got into both world wars on Britain's side.
The fact that the Americans used these opportunities to displace and dismantle British power while we were at it would have come as no surprise to him.